Image Media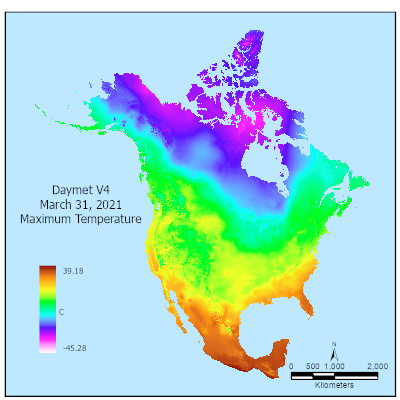 The ORNL DAAC has temporarily restricted access to the Daymet Version 4 Monthly Latency: Daily Surface Weather Data , as its producers have discovered significant differences between the lower latency data and the standard Daymet: Daily Surface Weather Data on a 1-km Grid for North America, Version 4 . 
The methods for deriving the lower latency product are being evaluated to assess and account for these differences, and we anticipate that an updated dataset will be forthcoming. This assessment is limited to the 2021 data products, comparisons with 2022 data are not yet available.
This restriction does not pertain to any of the standard Daymet Version 4 data products which are updated annually and have undergone rigorous analysis and peer review, see Thornton, P. E., R. Shrestha, M. Thornton, S.-C. Kao, Y. Wei, and B. E. Wilson. 2021. Gridded daily weather data for North America with comprehensive uncertainty quantification. Scientific Data 8. https://doi.org/10.1038/s41597-021-00973-0.
We apologize for any inconvenience that this issue has caused in your research, and we will address this issue as soon as reasonably possible.