Image Media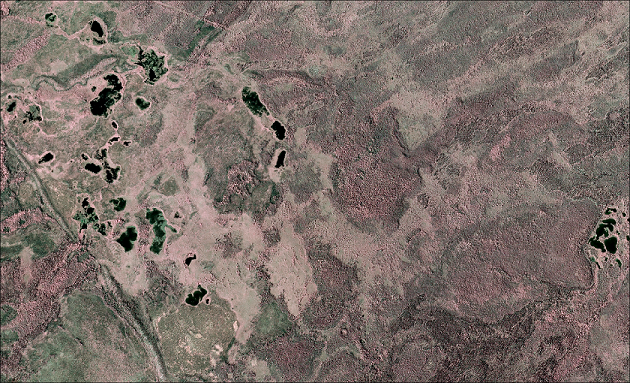 ABoVE: AirSWOT Color-Infrared Imagery Over Alaska and Canada, 2017
A new dataset from the Arctic-Boreal Vulnerability Experiment (ABoVE) contains georeferenced three-band orthomosaics of green, red, and near-infrared (NIR) digital imagery at 1m resolution collected over selected surface waters across Alaska and Canada between July 9 and August 17, 2017. The orthomosaics were generated from individual images collected by a Cirrus Designs Digital Camera System mounted on a Beechcraft Super King Air B200 aircraft from approximately 8-11 km altitude. The data were georeferenced using 303 ground control points (GCPs) across the study region.
These data are intended to validate surface water extent to aid interpretation of AirSWOT Ka-band radar returns as part of the AirSWOT ABoVE project. The core of AirSWOT is the Ka-band SWOT Phenomenology Airborne Radar (KaSPAR). It collects two swaths of across-track interferometry data (between nadir and 1 km and between 1 km and 5 km, respectively) which can be used to obtain centimeter-level topographic maps of water surfaces.
ABoVE is a NASA Terrestrial Ecology Program field campaign that will link field-based, process-level studies with geospatial data products derived from airborne and satellite sensors, providing a foundation for improving the analysis, and modeling capabilities needed to understand and predict ecosystem responses and societal implications.
See all data from ABoVE.
Data Citation: Kyzivat, E.D., L.C. Smith, L.H. Pitcher, J. Arvesen, T.M. Pavelsky, S.W. Cooley, and S. Topp. 2018. ABoVE: AirSWOT Color-Infrared Imagery Over Alaska and Canada, 2017. ORNL DAAC, Oak Ridge, Tennessee, USA. https://doi.org/10.3334/ORNLDAAC/1643
Data Center: ORNL DAAC
Sponsor: EOSDIS