Image Media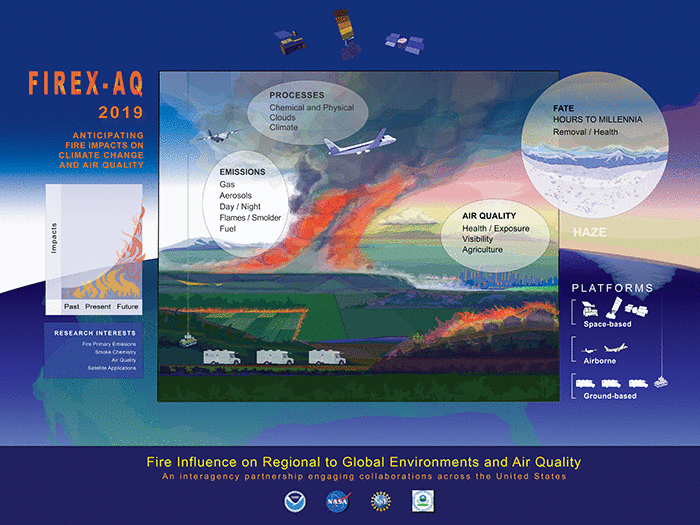 The ORNL DAAC recently released an update to the following MASTER (MODIS/ASTER) Airborne Simulator dataset:
MASTER: FIREX-AQ Airborne Campaign, Western-Central USA, Summer 2019
This dataset includes Level 1B (L1B) data products from the MODIS/ASTER Airborne Simulator (MASTER) instrument. The spectral data were collected as part of the Fire Influence on Regional to Global Environments and Air Quality (FIREX-AQ) program during 21 flights aboard a NASA DC-8 aircraft over the central and western U.S. from 2019-07-22 to 2019-09-03. The purpose of these flights was to measure emissions and to characterize the aerosols in the smoke plume above and downwind of the fire, and to determine the overall spatial extent of wildfires and prescribed fires. Data products include L1B georeferenced multispectral imagery of calibrated radiance in 50 bands covering wavelengths of 0.460 to 12.879 micrometers at approximately 20-meter spatial resolution, and the L1B file format is HDF-4. In addition, the dataset includes the flight path, spectral band information, instrument configuration, ancillary notes, and summary information for each flight, and browse images derived from each L1B data file.
The MODIS/ASTER Airborne Simulator (MASTER) is a scanning spectrometer which flies on a variety of multi-altitude research aircraft and provides data similar to the Moderate Resolution Imaging Spectroradiometer (MODIS) and the Advanced Spaceborne Thermal Emission and Reflection Radiometer (ASTER). MASTER first flew in 1998 and has ongoing deployments as a Facility Instrument in the NASA Airborne Science Program (ASP). MASTER is a joint project involving the Airborne Sensor Facility (ASF) at the Ames Research Center, the Jet Propulsion Laboratory (JPL), and the Earth Resources Observation and Science Center (EROS).
Additional data from MASTER and other relevant links can be found on the ORNL DAAC's MASTER project page.
Citation: Crawford, J.H., C. Warneke, and J.P. Schwarz. 2021. MASTER: FIREX-AQ Airborne Campaign, Western-Central USA, Summer 2019. ORNL DAAC, Oak Ridge, Tennessee, USA. https://doi.org/10.3334/ORNLDAAC/1941