Image Media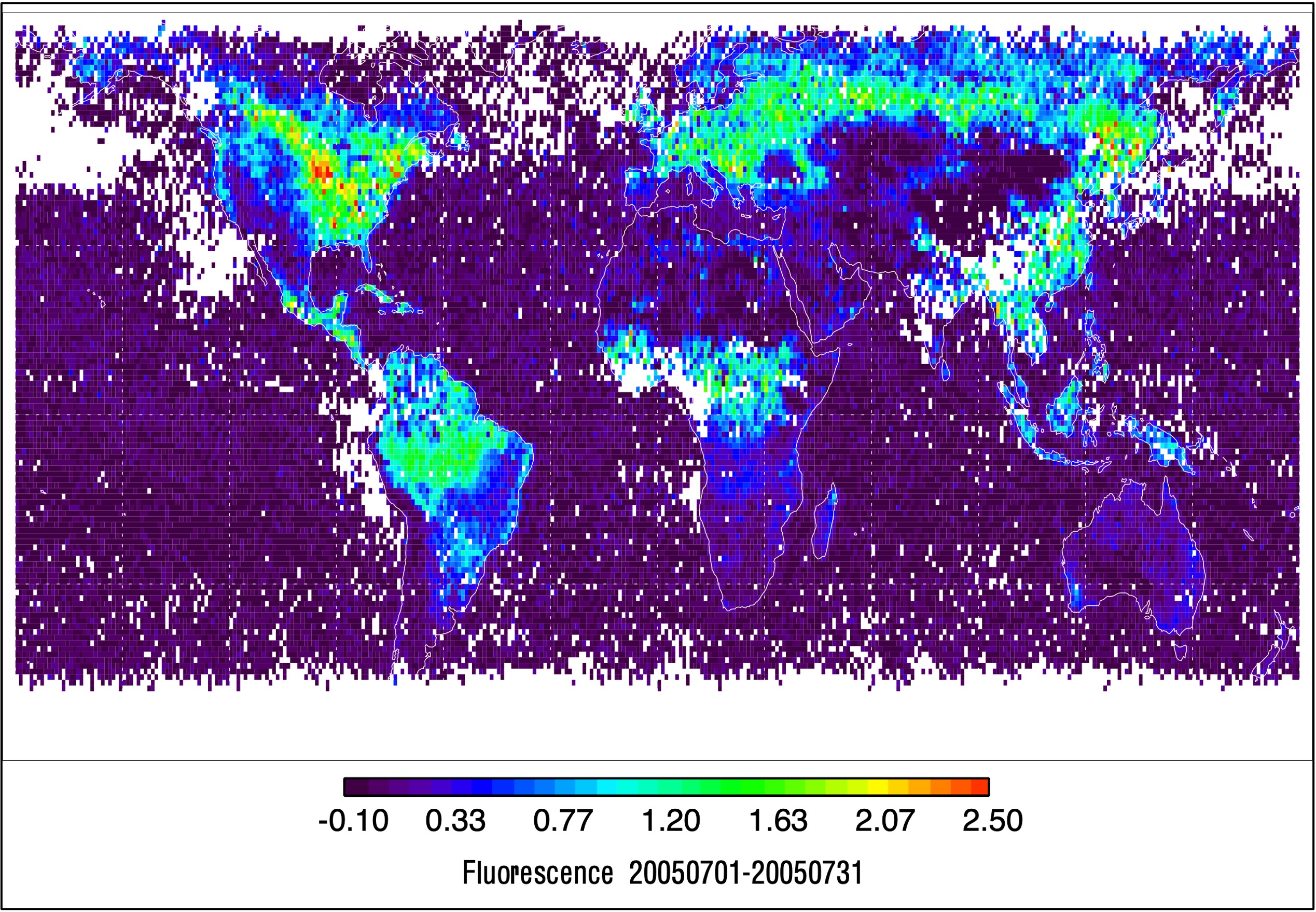 The ORNL DAAC recently released the following new Making Earth System Data Records for Use in Research Environments (MEaSUREs) dataset by Joiner, J., et al. (2021):
L2 Solar-Induced Fluorescence (SIF) from SCIAMACHY, 2003-2012
This dataset provides Level 2 (L2) Solar-Induced Fluorescence (SIF) of chlorophyll estimates derived from the SCanning Imaging Absorption spectroMeter for Atmospheric CartograpHY (SCIAMACHY) instrument on the European Space Agency's (ESA's) Environmental satellite (Envisat) with ~0.5 nm spectral resolution and wavelengths between 734 and 758 nm. SCIAMACHY covers global land between approximately 70 and -57 degrees latitude on an orbital basis at a resolution of approximately 30 km x 240 km. Data are provided for the period from 2003-01-01 to 2012-04-08. Each file contains daily raw and bias-adjusted solar-induced fluorescence along with quality control information and ancillary data.
The SCIAMACHY SIF product is inherently noisy owing to low signal levels and has undergone only a limited amount of validation.
The NASA MEaSUREs program is a commitment to expanding the understanding of the Earth system using consistent records. NASA has begun to deploy new types of sensors to provide three-dimensional profiles of Earth's atmosphere and surface. Emphasis is placed into linking together multiple satellites into a constellation, developing the means of utilizing a multitude of data sources to form coherent time series, and facilitating the use of extensive data in the development of comprehensive Earth system models.
Additional data from MEaSUREs and other relevant links can be found on the ORNL DAAC's MEaSUREs Project Page.
Citation: Joiner, J., Y. Yoshida, P. Koehler, C. Frankenberg, and N.C. Parazoo. 2021. L2 Solar-Induced Fluorescence (SIF) from SCIAMACHY, 2003-2012. ORNL DAAC, Oak Ridge, Tennessee, USA. https://doi.org/10.3334/ORNLDAAC/1871