Image Media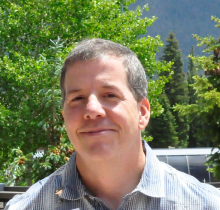 The ORNL DAAC's own Dr. Bruce E. Wilson was recently elevated to senior membership in the Association for Computing Machinery (ACM).
Bruce rejoined the ORNL DAAC in 2018 for a second term as Manager and also serves as the Group Leader for Remote Sensing and Environmental Informatics in ORNL's Environmental Sciences Division.
Bruce has had a diverse and productive tenure with ORNL. He joined ORNL's Environmental Sciences Division in 2006 to design and build information systems for climate scientists and ecologists and served in his first round as DAAC Manager starting in 2008. In late 2010, he moved into ORNL's Information Technology Services Division to be an Enterprise Architect. His current role back as the ORNL DAAC Manager and Group Leader allows Bruce the opportunity to return to the field of ecological and earth system science that he enjoys most. His expertise in science and computer infrastructure is reflected in Bruce's lasting involvement in the USA National Phenology Network where he co-wrote its first generation cyberinfrastructure and served for a decade on the Board of Advisors.
Bruce holds appointments in both the Bredesen Center for Interdisciplinary Research and Graduate Education and the School of Information Sciences in the College of Communication and Information at the University of Tennessee, Knoxville. During his time at ORNL, he has received four ORNL Significant Event Awards, as well as a Department of Energy Outstanding Mentor Award.
Read more about Bruce and his work at the Oak Ridge National Laboratory.