Image Media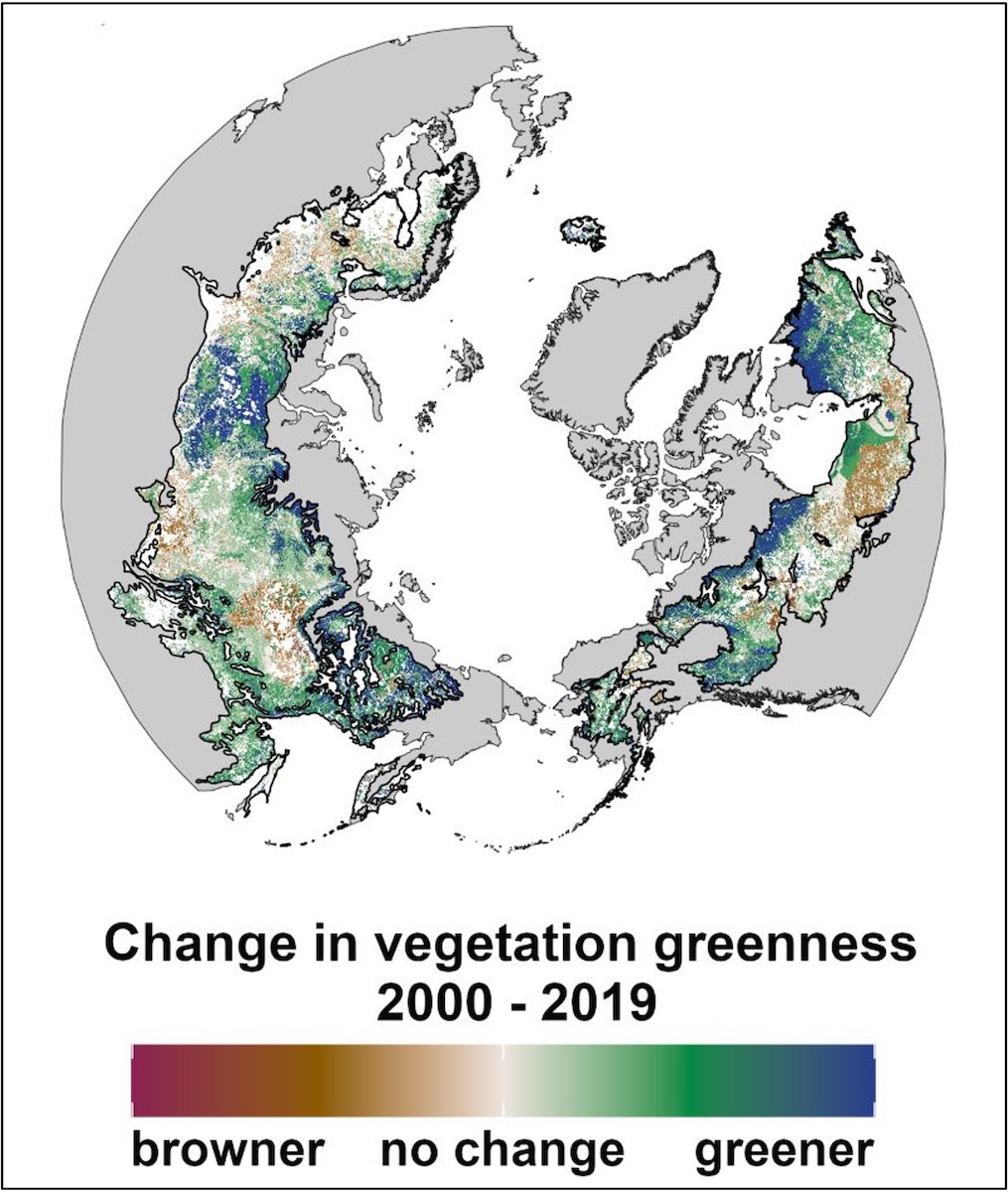 The ORNL DAAC recently released a new Arctic-Boreal Vulnerability Experiment (ABoVE) dataset by Berner, L.T. et al. (2022):
ABoVE: Landsat Vegetation Greenness Trends, Boreal Forest Biome, 1985-2019
This dataset provides information on interannual trends in annual maximum vegetation greenness from 1985 to 2019 for recently undisturbed areas in the boreal forest biome. Multi-decadal changes in remotely sensed vegetation greenness provide evidence of an emerging boreal biome shift driven by climate warming. Annual maximum vegetation greenness was assessed at about 100,000 random sample locations using an ensemble of spectral vegetation indices (NDVI, EVI2, kNDVI, and NIRv) derived from Landsat products. The dataset provides raster data summarizing vegetation greenness trends for sample locations stratified by Ecological Land Unit in GeoTIFF format. These raster data span the circum-hemispheric boreal forest biome between 45 to 70 degrees north at 300 m resolution. Estimates of uncertainty were generated using Monte Carlo simulations. Interannual trends in annual maximum vegetation greenness from 1985 to 2019 and 2000 to 2019 are provided for sample locations with adequate data for time series analysis; these data are in comma-separated values (CSV) format.
The ABoVE is a NASA Terrestrial Ecology Program field campaign being conducted in Alaska and western Canada, for 8 to 10 years, starting in 2015. Research for ABoVE links field-based, process-level studies with geospatial data products derived from airborne and satellite sensors, providing a foundation for improving the analysis, and modeling capabilities needed to understand and predict ecosystem responses to, and societal implications of, climate change in the Arctic and Boreal regions.
Additional data from ABoVE and other relevant links can be found on the ORNL DAAC's ABoVE Project Page.
Citation: Berner, L.T., and S.J. Goetz. 2022. ABoVE: Landsat Vegetation Greenness Trends, Boreal Forest Biome, 1985-2019. ORNL DAAC, Oak Ridge, Tennessee, USA. https://doi.org/10.3334/ORNLDAAC/2023