Image Media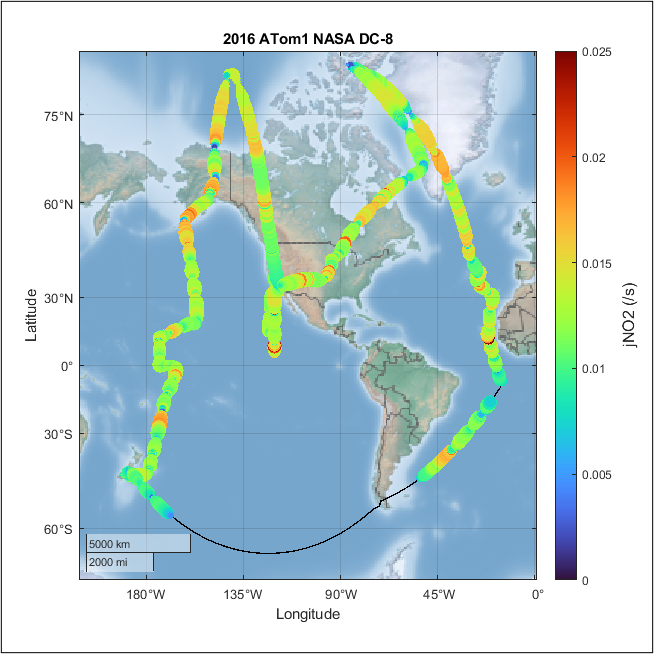 The ORNL DAAC recently released an update to the following Atmospheric Tomography Mission (ATom) dataset by Hall, S.R., et al. (2021):
ATom: Actinic Flux and Photolysis Frequencies from CAFS Instrument, 2016-2018, V2
This updated dataset contains actinic flux and photolysis frequencies for photodissociation reactions for a variety of chemical species during the four ATom campaigns. Spectrally resolved actinic flux was measured by the down- and up-welling Charged-coupled device Actinic Flux Spectroradiometers (CAFS) from approximately 280-650 nm. Photolysis frequencies were calculated from the actinic flux and published cross sections and quantum yield values for atmospherically relevant molecules. Solar radiation drives the chemistry of the atmosphere, including the evolution of ozone, greenhouse gases, biomass burning, and other anthropogenic and natural trace constituents.
This is Version 2 of this dataset containing the initial release of CAFS-FLUX-N and CAFS-FLUX-Z (actinic flux) files and additional file updates. Details can be found within the user guide under Section 8, dataset revisions.
The Atmospheric Tomography Mission (ATom) is a NASA Earth Venture Suborbital-2 mission to study the impact of human-produced air pollution on greenhouse gases and on chemically reactive gases in the atmosphere. ATom deployed an extensive gas and aerosol payload on the NASA DC-8 aircraft for systematic, global-scale sampling of the atmosphere, profiling continuously from 0.2 to 12 km altitude. Around-the-world flights were conducted in each of four seasons between 2016 and 2018.
Additional data from ATom and other relevant links can be found on the ORNL DAAC's ATom Project Page.
Citation: Hall, S.R., and K. Ullmann. 2021. ATom: Actinic Flux and Photolysis Frequencies from CAFS Instrument, 2016-2018, V2. ORNL DAAC, Oak Ridge, Tennessee, USA. https://doi.org/10.3334/ORNLDAAC/1933