Image Media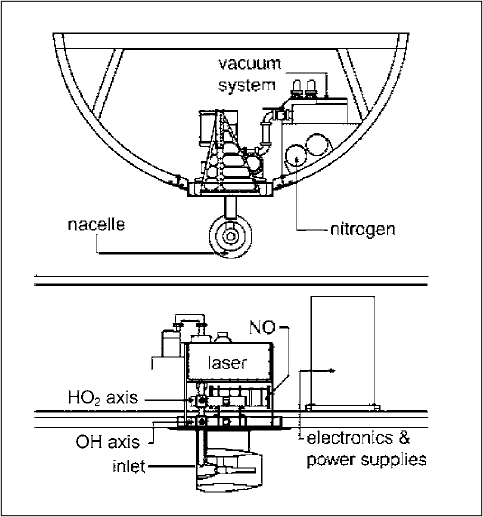 The ORNL DAAC recently released an update to the following Atmospheric Tomography Mission (ATom) dataset by Brune, W.H., et al. (2021):
ATom: Measurements from Airborne Tropospheric Hydrogen Oxides Sensor (ATHOS), V2
This dataset provides the mixing ratios of hydrogen oxides measured by the Airborne Tropospheric Hydrogen Oxides Sensor (ATHOS) during the ATom 1-4 campaigns. ATHOS uses laser-induced fluorescence (LIF) to measure hydroxide (OH) and hydroperoxyl (HO2) simultaneously. The measurements include OH and HO2 mixing ratios and the OH interference determined by chemical removal of OH. The reactivity of OH is measured by the OH Reactivity (OHR) instrument using the discharge flow method and is integrated into the ATHOS electronics. These data provide insights into the oxidative state of the global atmosphere. These data are useful for testing the oxidation chemistry in models and other analytical methods being developed to deduce the atmosphere's oxidative state.
This is Version 2 of this dataset where improved calibration methods resulted in updated data values in all four ATom campaigns within the Mission. 
The Atmospheric Tomography Mission (ATom) is a NASA Earth Venture Suborbital-2 mission to study the impact of human-produced air pollution on greenhouse gases and on chemically reactive gases in the atmosphere. ATom deployed an extensive gas and aerosol payload on the NASA DC-8 aircraft for systematic, global-scale sampling of the atmosphere, profiling continuously from 0.2 to 12 km altitude. Around-the-world flights were conducted in each of four seasons between 2016 and 2018.
Additional data from ATom and other relevant links can be found on the ORNL DAAC's ATom Project Page.
Citation: Brune, W.H., D.O. Miller, and A.B. Thames. 2021. ATom: Measurements from Airborne Tropospheric Hydrogen Oxides Sensor (ATHOS), V2. ORNL DAAC, Oak Ridge, Tennessee, USA. https://doi.org/10.3334/ORNLDAAC/1930