Image Media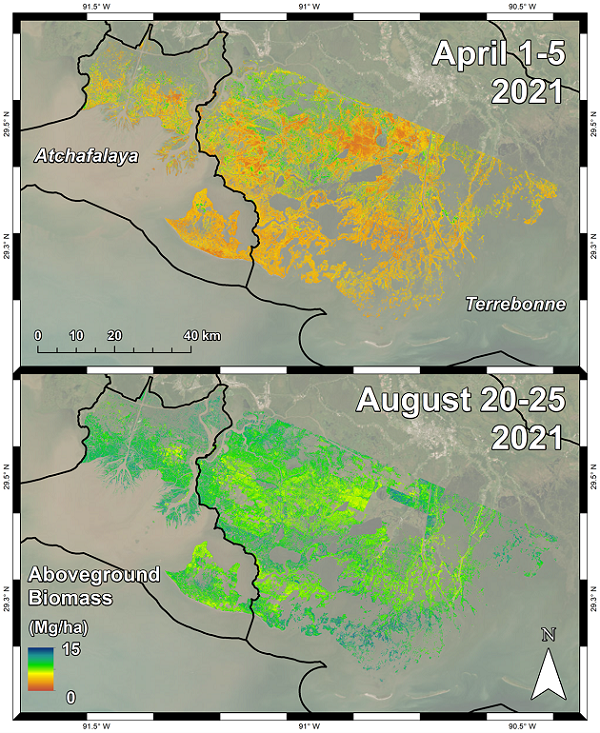 The ORNL DAAC recently released the following Delta-X dataset by Jensen, D.J., et al. (2023):
Delta-X: AVIRIS-NG L3-Derived Aboveground Biomass, MRD, Louisiana, USA, 2021, V2
This dataset includes estimates of herbaceous aboveground biomass (AGB) for the Atchafalaya and Terrebonne basins of the Mississippi River Delta in coastal Louisiana, USA, for the fall and spring seasons of 2021. AGB was estimated from BRDF-adjusted surface reflectance products from NASA's Next Generation Airborne Visible Infrared Imaging Spectrometer (AVIRIS-NG) acquired over the study area in April and August 2021. An empirical model to estimate AGB was generated by comparing local pixel reflectance spectra with coincident in-situ samples of herbaceous vegetation AGB. This model was then scaled to the AVIRIS-NG mosaic imagery to map herbaceous AGB across the Atchafalaya and Terrebonne Basins. The Delta-X campaign conducted both airborne (remote sensing) and field (in situ) measurements to measure hydrology, water quality (e.g., total suspended solids (TSS)), and vegetation structure. These data serve to better understand rates of soil erosion, accretion, and creation in the delta system, with the goal of building better models of how river deltas will behave under relative sea level rise. This dataset updates the data provided in Version 1.
Delta-X is a 5-year NASA Earth Ventures Suborbital-3 mission to study the Mississippi River Delta in the United States, which is growing and sinking in different areas. River deltas and their wetlands are drowning as a result of sea level rise and reduced sediment inputs. The Delta-X mission will determine which parts will survive and continue to grow, and which parts will be lost. Delta-X begins with airborne and in situ data acquisition and carries through data analysis, model integration, and validation to predict the extent and spatial patterns of future deltaic land loss or gain. 
Additional data from the Delta-X project can be found on the Delta-X Project page.
Citation: Jensen, D.J., E. Castañeda-Moya, E. Solohin, A. Rovai, D.R. Thompson, and M. Simard. 2023. Delta-X: AVIRIS-NG L3-Derived Aboveground Biomass, MRD, Louisiana, USA, 2021, V2. ORNL DAAC, Oak Ridge, Tennessee, USA. https://doi.org/10.3334/ORNLDAAC/2138