Image Media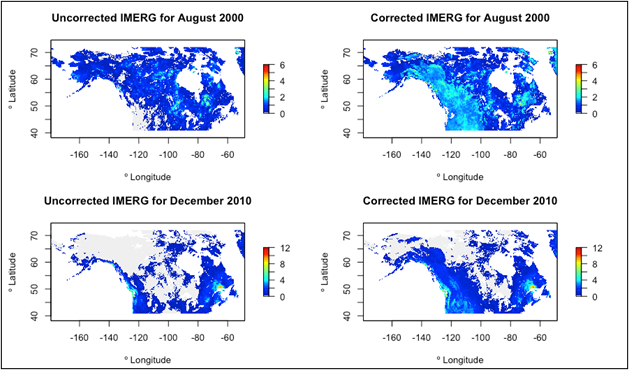 The ORNL DAAC recently released a new Arctic-Boreal Vulnerability Experiment (ABoVE) dataset by Lober, C., et al. (2022):
ABoVE: Bias-Corrected IMERG Monthly Precipitation for Alaska and Canada, 2000-2020
This dataset is a modification to the NASA Global Precipitation Measurement (GPM) Integrated Multi-satellitE Retrievals for GPM (IMERG) Final Run microwave-only, daily precipitation Version 06 data. It provides bias-corrected IMERG monthly precipitation data for Alaska and Canada from June 2000 through December 2020 in Cloud-Optimized GeoTIFF (*.tif) format. Data are provided in the units of mm/day. NASA's IMERG data product is one of the most advanced satellite precipitation products with a 0.1-degree spatial resolution and near global coverage. This dataset bias-corrected IMERG's HQprecipitation precipitation estimates, which are based on passive microwave (PMW)-only retrievals, using a linear regression method. This method uses empirical measurements from rain gauge stations from the Global Historical Climatology Network (GHCN) and a digital elevation model. This bias correction approach improves estimates at elevations above 500 m a.s.l., which are typically underestimated.
The ABoVE is a NASA Terrestrial Ecology Program field campaign being conducted in Alaska and western Canada, for 8 to 10 years, starting in 2015. Research for ABoVE links field-based, process-level studies with geospatial data products derived from airborne and satellite sensors, providing a foundation for improving the analysis, and modeling capabilities needed to understand and predict ecosystem responses to, and societal implications of, climate change in the Arctic and Boreal regions.
Additional data from ABoVE and other relevant links can be found on the ORNL DAAC's ABoVE Project Page.
Citation: Lober, C., and J.V. Fayne. 2022. ABoVE: Bias-Corrected IMERG Monthly Precipitation for Alaska and Canada, 2000-2020. ORNL DAAC, Oak Ridge, Tennessee, USA. https://doi.org/10.3334/ORNLDAAC/2097