Image Media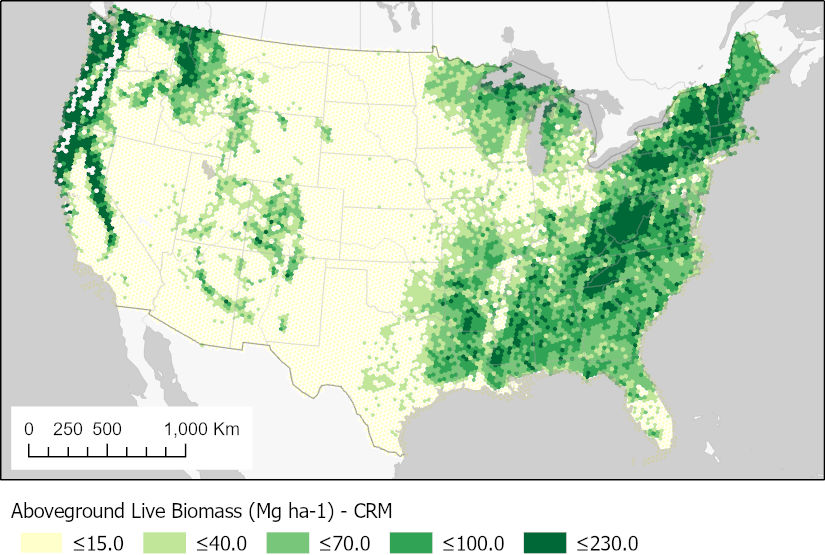 The ORNL DAAC recently released the following new Carbon Monitoring System (CMS) dataset by Menlove, J., et al. (2021):
CMS: Forest Aboveground Biomass from FIA Plots across the Conterminous USA, 2009-2019
This dataset provides forest biomass estimates for the conterminous United States based on data from the USDA Forest Inventory and Analysis (FIA) program. FIA maintains uniformly measured field plots across the conterminous U.S. This dataset, derived from field survey data from 2009-2019, includes statistical estimates of biomass at the finest scale (64,000-hectare hexagons) allowed by FIA's sample density. Estimates include the mean (and standard error of the mean) biomass for both live and dead trees, calculated using three sets of allometric equations. There is also an estimate of the area of forestland in each hexagon. These data can be useful for assessing the accuracy of remotely sensed biomass estimates.
The NASA CMS program is designed to make significant contributions in characterizing, quantifying, understanding, and predicting the evolution of global carbon sources and sinks through improved monitoring of carbon stocks and fluxes. The System uses NASA satellite observations and modeling/analysis capabilities to establish the accuracy, quantitative uncertainties, and utility of products for supporting national and international policy, regulatory, and management activities. CMS data products are designed to inform near-term policy development and planning.
Additional data from CMS and other relevant links can be found on the ORNL DAAC's CMS Project Page.
Citation: Menlove, J., and S.P. Healey. 2021. CMS: Forest Aboveground Biomass from FIA Plots across the Conterminous USA, 2009-2019. ORNL DAAC, Oak Ridge, Tennessee, USA. https://doi.org/10.3334/ORNLDAAC/1873