Image Media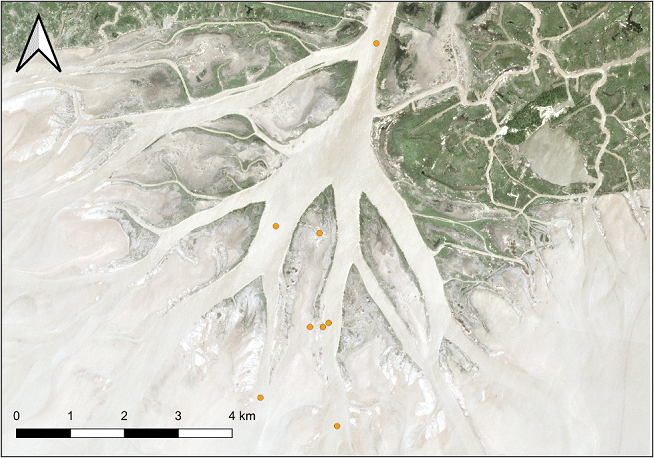 The ORNL DAAC recently released the following Delta-X dataset by Nghiem, J., et al. (2023):
Delta-X: Bed and Suspended Sediment Grain Size, MRD, LA, USA, 2021, Version 2
This dataset provides sediment concentration and grain size distribution measurements from suspended and bed sediment samples collected in the Atchafalaya and Terrebonne River Basins as part of the Delta-X Spring campaign between March 24 to April 2, 2021 and Delta-X Fall campaign between August 17-25, 2021. During the field campaign, samples were collected in the main distributary channels and the interior of Mike Island in the Wax Lake Delta, Louisiana and at site CRMS0421 inside the Terrebonne River Basin. Sediment samples were collected from a boat using a Van Dorn sampler (for suspended sediment samples) or a Ponar bed sampler (for bed samples). Suspended sediment samples were collected from a boat drifting at approximately the same velocity as the water flow. One sample was collected per drift. Bed samples were collected in a similar fashion. Data includes measurements of sediment grain size, total sediment concentration, as well as water temperature, velocity, salinity, and depth. This Version 2 includes the initial release of Fall 2021 data and an update to the Version 1 (Spring 2021) data file in which an error in the data was resolved.
Delta-X is a 5-year NASA Earth Ventures Suborbital-3 mission to study the Mississippi River Delta in the United States, which is growing and sinking in different areas. River deltas and their wetlands are drowning as a result of sea level rise and reduced sediment inputs. The Delta-X mission will determine which parts will survive and continue to grow, and which parts will be lost. Delta-X begins with airborne and in situ data acquisition and carries through data analysis, model integration, and validation to predict the extent and spatial patterns of future deltaic land loss or gain. 
Additional data from the Delta-X project can be found on the Delta-X Project page.
Citation: Nghiem, J., G. Salter, and M.P. Lamb. 2023. Delta-X: Bed and Suspended Sediment Grain Size, MRD, LA, USA, 2021, Version 2. ORNL DAAC, Oak Ridge, Tennessee, USA. https://doi.org/10.3334/ORNLDAAC/2135