Image Media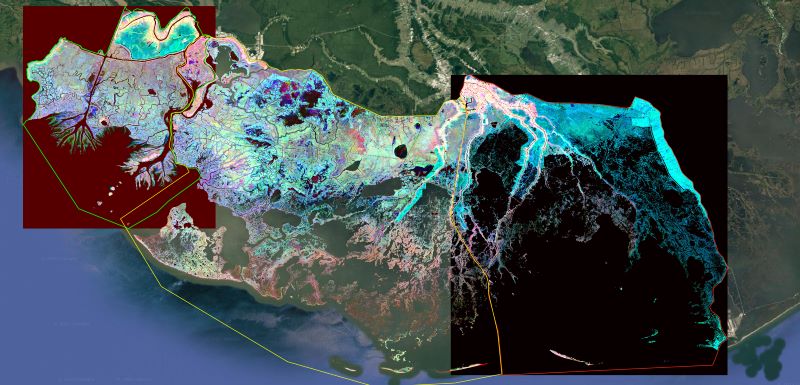 The ORNL DAAC recently released the following Delta-X dataset by Simard, M., et al. (2022):
Delta-X: Ecogeomorphic Cell Products across the MRD, LA, USA, 2021
This product delineates the Mississippi River Delta (MRD) landscape into distinct ecogeomorphic cells, which are small contiguous areas of land with similar ecological and geomorphological characteristics. The study area is the Atchafalaya and Terrebonne basins of the MRD in southern Louisiana, U.S., which was the focus of NASA's 2021 Delta-X campaign. Each ecogeomorphic cell is a small homogeneous area of similar vegetation and elevation (or bathymetry). A "cell" typically consists of a cluster of contiguous pixels in a raster image, although cells of single pixels are present. The data are provided in shapefile and GeoTIFF formats. The vector shapefiles contain the distinct ecogeomorphic cells as polygons with unique labels (i.e., ID number). A raster image of these ecogeomorphic cells provided wherein the pixel values are the polygon labels from the shapefiles. The GeoTIFFs hold the mean and standard deviations of bathymetry, NIR, and NDVI spectral indices within each ecogeomorphic region (polygon). The raster data are provided with a spatial resolution of 0.000045 degrees (approximately 5 meters).
Delta-X is a 5-year NASA Earth Ventures Suborbital-3 mission to study the Mississippi River Delta in the United States, which is growing and sinking in different areas. River deltas and their wetlands are drowning as a result of sea level rise and reduced sediment inputs. The Delta-X mission will determine which parts will survive and continue to grow, and which parts will be lost. Delta-X begins with airborne and in situ data acquisition and carries through data analysis, model integration, and validation to predict the extent and spatial patterns of future deltaic land loss or gain. 
Additional data from the Delta-X project can be found on the Delta-X Project page.
Citation: Simard, M., M.W. Denbina, E. Rodriguez, A.L. Christensen, K.A. Wright, and A. Rovai. 2022. Delta-X: Ecogeomorphic Cell Products across the MRD, LA, USA, 2021. ORNL DAAC, Oak Ridge, Tennessee, USA. https://doi.org/10.3334/ORNLDAAC/2108