Image Media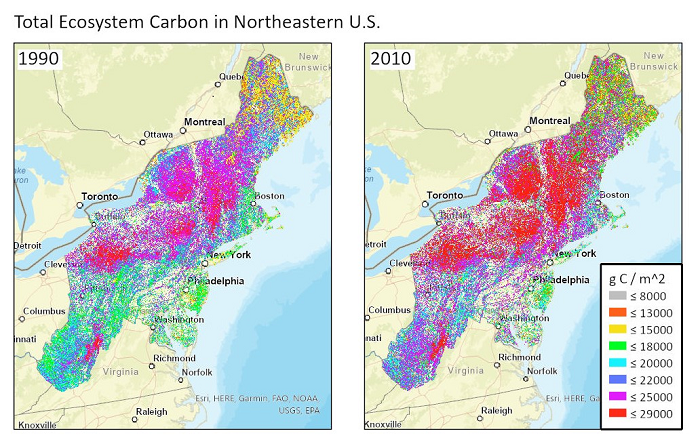 The ORNL DAAC recently released the following new Carbon Monitoring System (CMS) datasets by Williams, C.A., et al. (2020):
Forest Carbon Stocks and Fluxes from the NFCMS, Conterminous USA, 1990-2010
This dataset, derived from the National Forest Carbon Monitoring System (NFCMS), provides estimates of forest carbon stocks and fluxes in the form of aboveground woody biomass (AGB), total live biomass, total ecosystem carbon, aboveground coarse woody debris (CWD), and net ecosystem productivity (NEP) as a function of the number of years since the most recent disturbance (i.e., stand age) for forests of the conterminous U.S. at a 30 m resolution for the benchmark years 1990, 2000, and 2010. The data are useful for a wide range of applications including monitoring and reporting recent dynamics of forest carbon across the conterminous U.S., assessment of recent trends with attribution to disturbance and regrowth drivers, conservation planning, and assessment of climate change mitigation opportunities within the forest sector.
This dataset is a new national-scale version of the related Southeast U.S. dataset (Gu et al., 2019a) that is described in the publication Gu et al. (2019b). The new version implemented modest improvements to methods where disturbances were attributed to harvest and fire only, and the calculation of stand age for undisturbed forest pixels was slightly modified.
The NASA CMS program is designed to make significant contributions in characterizing, quantifying, understanding, and predicting the evolution of global carbon sources and sinks through improved monitoring of carbon stocks and fluxes. The System uses NASA satellite observations and modeling/analysis capabilities to establish the accuracy, quantitative uncertainties, and utility of products for supporting national and international policy, regulatory, and management activities. CMS data products are designed to inform near-term policy development and planning.
Additional data from CMS and other relevant links can be found on the ORNL DAAC's CMS Project Page.
Citation: Williams, C.A., N. Hasler, H. Gu, and Y. Zhou. 2020. Forest Carbon Stocks and Fluxes from the NFCMS, Conterminous USA, 1990-2010. ORNL DAAC, Oak Ridge, Tennessee, USA. https://doi.org/10.3334/ORNLDAAC/1829