Image Media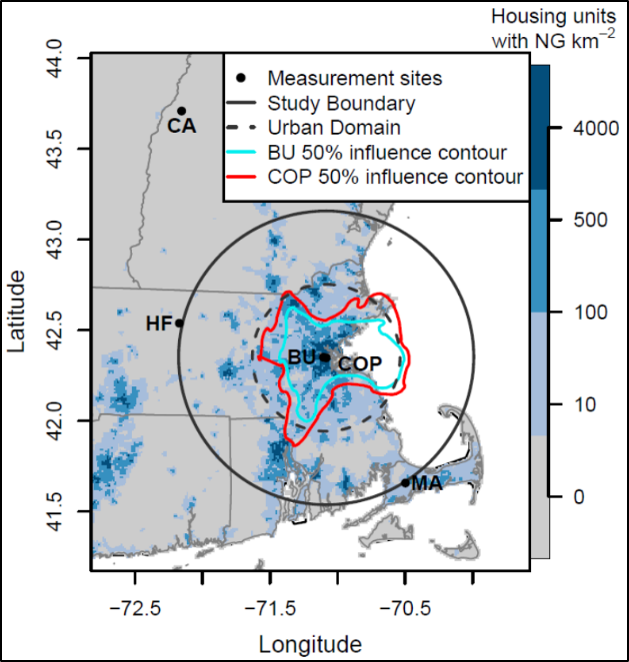 The ORNL DAAC recently released this dataset from the Carbon Monitoring Systems (CMS) project by Sargent, M., et al., (2022):
Methane and Ethane Observations for Boston, MA, 2012-2020
This dataset provides the hourly average of continuous atmospheric measurements of methane (CH4) from two urban sites and three boundary sites in and around Boston, Massachusetts, U.S., from September 2012-May 2020, measured with Picarro cavity ring down spectrometers (CRDS). Five-minute average atmospheric measurements of ethane (C2H6) and methane at Copley Square in Boston, MA, are also provided, with ethane measured with a laser spectrometer and methane measured with a Picarro CRDS. Background CH4 concentrations for the urban sites were determined using Hybrid Single-Particle Lagrangian Integrated Trajectory (HYSPLIT) model trajectories at the boundary of the study region based on measurements at three boundary sites and wind direction from the North American Mesoscale Forecast System (NAM) 12-kilometer meteorology.
The NASA CMS program is designed to make significant contributions in characterizing, quantifying, understanding, and predicting the evolution of global carbon sources and sinks through improved monitoring of carbon stocks and fluxes. The System uses NASA satellite observations and modeling/analysis capabilities to establish the accuracy, quantitative uncertainties, and utility of products for supporting national and international policy, regulatory, and management activities. CMS data products are designed to inform near-term policy development and planning.
Additional data from Carbon Monitoring System (CMS) project and other relevant links can be found on the ORNL DAAC's CMS Project Page.
Citation: Sargent, M., S.C. Wofsy, C. Floerchinger, J. Buddy, and E.W. Gottlieb. 2022. Methane and Ethane Observations for Boston, MA, 2012-2020. ORNL DAAC, Oak Ridge, Tennessee, USA. https://doi.org/10.3334/ORNLDAAC/1982