Image Media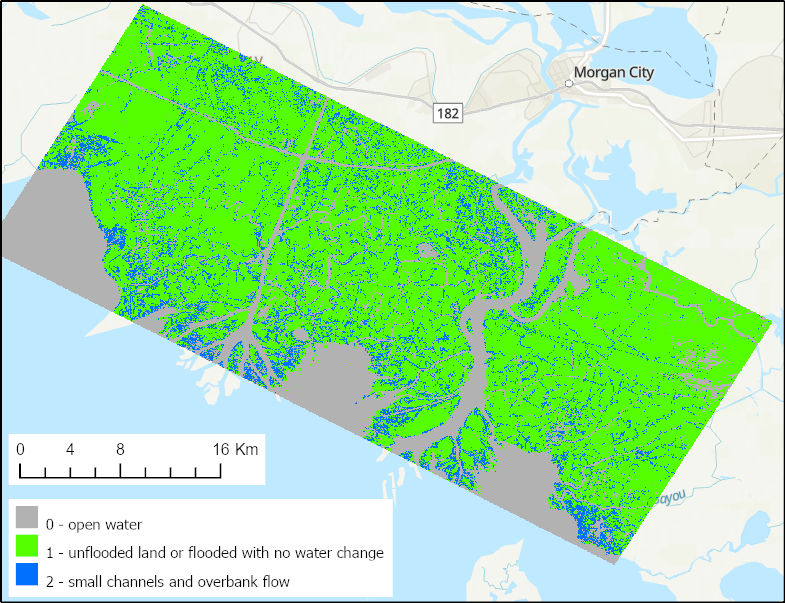 The ORNL DAAC recently released the following Pre-Delta-X Demonstration Campaign dataset by Veres, P.R., et al. (2021):
Pre-Delta-X: UAVSAR Georeferenced Channel Maps, Atchafalaya Basin, LA, USA, 2016
This dataset provides spatial data on water channels in the estuary of the Atchafalaya Basin of the Mississippi River Delta of coastal Louisiana. These gridded channel maps were developed from interferograms derived from Uninhabited Aerial Vehicle Synthetic Aperture Radar (UAVSAR) data collected on 2016-10-16 and 2016-10-17 during low and high tides. The channel maps define open water paths in hydrodynamic models and are used to evaluate model performance.
UAVSAR is a polarimetric L-band synthetic aperture radar (SAR) flown on the NASA Gulfstream-3 aircraft. Channel maps were generated from the InSAR interferograms for nearest-neighbor (NN), NN+1, and NN+2 pairs for data acquired on 2016-10-16 (low tide) and 2016-10-17 (high tide).
Delta-X is a 5-year NASA Earth Ventures Suborbital-3 mission to study the Mississippi River Delta in the United States, which is growing and sinking in different areas. River deltas and their wetlands are drowning as a result of sea level rise and reduced sediment inputs. The Delta-X mission will determine which parts will survive and continue to grow, and which parts will be lost. Delta-X begins with airborne and in situ data acquisition and carries through data analysis, model integration, and validation to predict the extent and spatial patterns of future deltaic land loss or gain. 
Additional data from the Delta-X project can be found on the Delta-X Project page.
Citation: Jones, C., T. Oliver, and Y. Lou. 2021. Pre-Delta-X: UAVSAR Georeferenced Channel Maps, Atchafalaya Basin, LA, USA, 2016. ORNL DAAC, Oak Ridge, Tennessee, USA. https://doi.org/10.3334/ORNLDAAC/1954