Image Media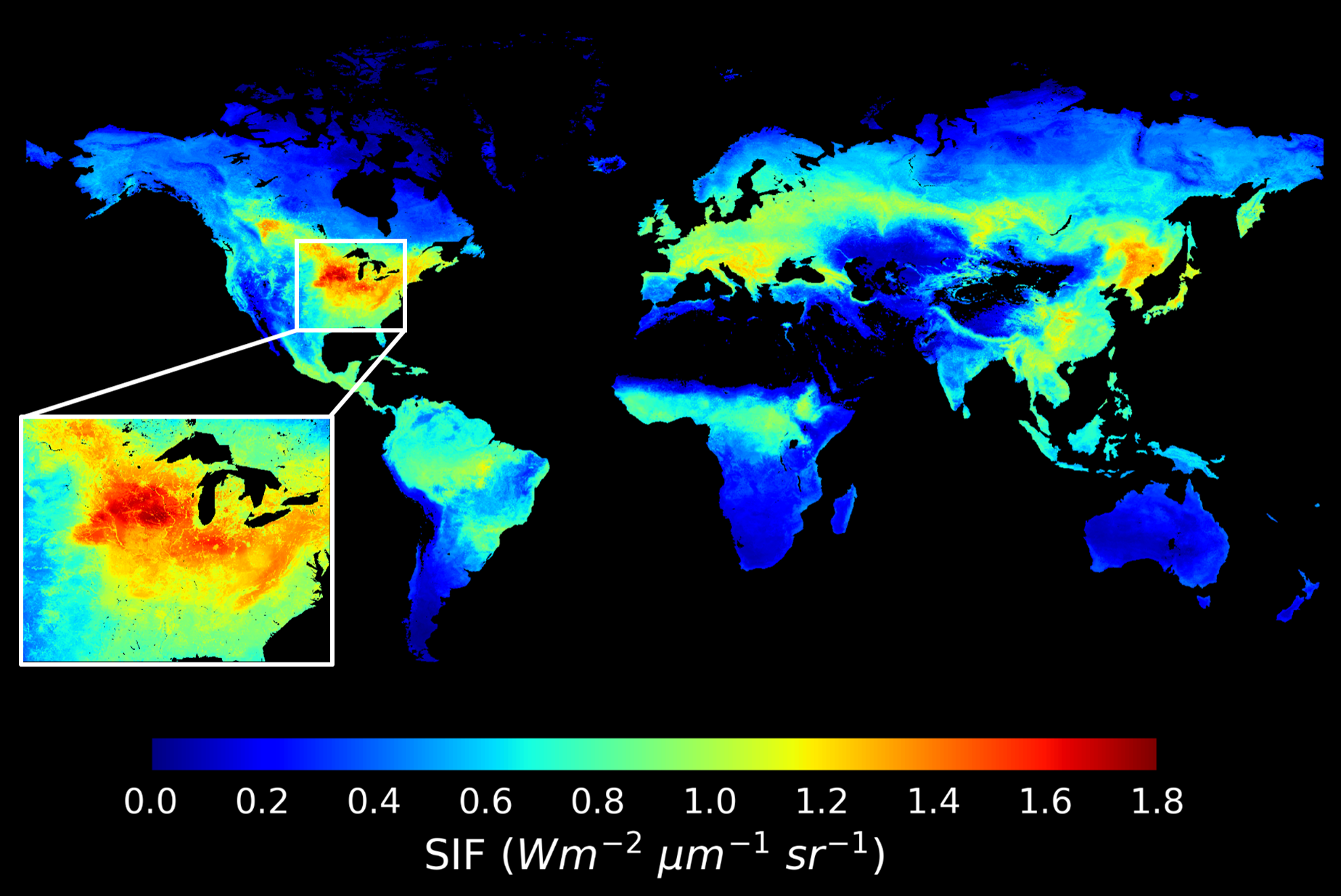 The ORNL DAAC has recently released new services to support four available Solar Induced Fluorescence (SIF) datasets:
The entire SIF Earth Science Data Records (ESDR) collection is now accessible through the ORNL DAAC's Thematic Real-time Environmental Distributed Data Services (THREDDS) Data Server (TDS), with links provided through the project page, on each landing page, and through our catalogue service page. 
Additionally, the two gridded datasets: 
Global High-Resolution Estimates of SIF from Fused SCIAMACHY and GOME-2, 2002-2018
High Resolution Global Continuous SIF Estimates from OCO-2 SIF and MODIS, Version 2
have been provided in TDS as aggregated virtual data layers along the time dimension to support time series analysis, with a new Spatial and Temporal Subsetting of Gridded SIF Data learning resource.  This tutorial demonstrates using Python to access SIF data and performing spatial and temporal subsetting using the NetCDF Subset Service (NCSS).  
To support field site research and integration with other ecology-related data products, both gridded datasets are now available through our our Global Subsets and Fixed Sites tools, as products SIF005 and SIF_ANN. The Global Subsets Tool provides subsets for any location on earth including interactive time-series plots and more, while the Fixed Sites tool provides pre-processed subsets for more than 3100 field sites.
All SIF-ESDR datasets are now available in Earthdata Cloud and accessible through Earthdata Search for download. Users working in the US-West-2 region of Amazon Web Services (AWS) can use Direct S3 Access to work with these datasets without having to download them. 
This SIF-ESDR Project is developing a global, observation-based Earth System Data Record (ESDR) for quantifying global vegetation solar induced fluorescence (SIF) and photosynthesis gross primary productivity (GPP) from 1996-2020. It was funded under the NASA 2017 Making Earth System Data Records for Use in Research Environments (MEaSUREs) call (17-MEASURES-0032). 
Citation(s):
Wen, J., P. Koehler, G. Duveiller, N.C. Parazoo, T. Magney, G. Hooker, L. Yu, C.Y. Chang, and Y. Sun. 2021. Global High-Resolution Estimates of SIF from Fused SCIAMACHY and GOME-2, 2002-2018. ORNL DAAC, Oak Ridge, Tennessee, USA. https://doi.org/10.3334/ORNLDAAC/1864
Yu, L., J. Wen, C.Y. Chang, C. Frankenberg, and Y. Sun. 2021. High Resolution Global Contiguous SIF Estimates from OCO-2 SIF and MODIS, Version 2. ORNL DAAC, Oak Ridge, Tennessee, USA. https://doi.org/10.3334/ORNLDAAC/1863
Joiner, J., Y. Yoshida, P. Koehler, C. Frankenberg, and N.C. Parazoo. 2019. L2 Daily Solar-Induced Fluorescence (SIF) from ERS-2 GOME, 1995-2003. ORNL DAAC, Oak Ridge, Tennessee, USA. https://doi.org/10.3334/ORNLDAAC/1758 
Joiner, J., Y. Yoshida, P. Koehler, C. Frankenberg, and N.C. Parazoo. 2021. L2 Solar-Induced Fluorescence (SIF) from SCIAMACHY, 2003-2012. ORNL DAAC, Oak Ridge, Tennessee, USA. https://doi.org/10.3334/ORNLDAAC/1871