Image Media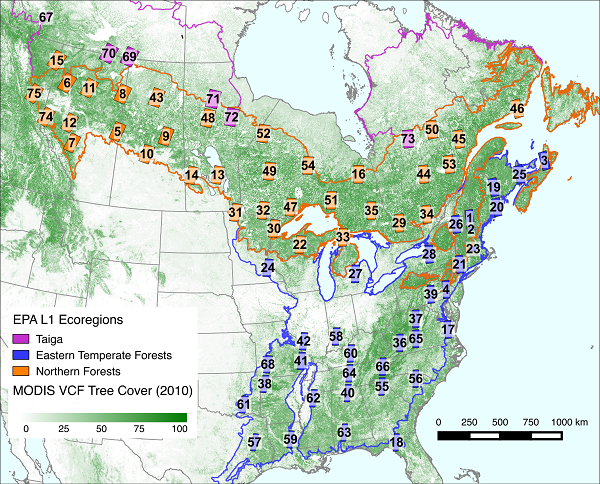 The timing of leaf emergence is an important diagnostic of climate change impacts on ecosystems.
A new dataset provides Landsat phenology algorithm (LPA) derived start and end of growing seasons (SOS and EOS) at 500-m resolution for deciduous and mixed forest areas of 75 selected Landsat sidelap regions across the Eastern United States and Canada. The data are a 30-year time series (1984-2013) of derived spring and autumn phenology for forested areas of the Eastern Temperate Forest, Northern Forest, and Taiga ecoregions.
Landsat-derived Spring and Autumn Phenology, Eastern US - Canadian Forests, 1984-2013
Results from this work support the utility of land surface phenology information derived from Landsat for improving information and understanding of ecosystem processes at landscape scales.
Data Citation:
Melaas, E.K., M.A. Friedl, and D. Sulla-Menashe. 2018. Landsat-derived Spring and Autumn Phenology, Eastern US - Canadian Forests, 1984-2013. ORNL DAAC, Oak Ridge, Tennessee, USA. https://doi.org/10.3334/ORNLDAAC/1570
Related Publication:
Melaas, E. K., M. A. Fridel, and D. Sulla-Menashe. 2018. Multidecadal Changes and Interannual Variation in Springtime Phenology of North American Temperate and Boreal Deciduous Forests. Geophysical Research Letters. https://doi.org/10.1002/2017GL076933
Data center: ORNL DAAC
Sponsor: NASA EOSDIS