Image Media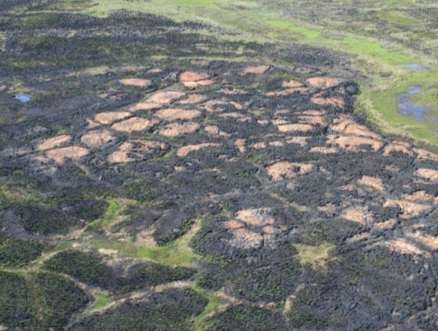 The ORNL DAAC recently released a new Arctic-Boreal Vulnerability Experiment (ABoVE) dataset by Miller, E.A., et al. (2022):
ABoVE: Post-Fire and Unburned Field Site Data, Anaktuvuk River Fire Area, 2008-2017
This dataset includes field measurements from 26 burned and unburned transects established in 2008 in the region of the Anaktuvuk River tundra fire on the Arctic Slope of Alaska, US. Measurements include plant cover by species, shrub and tussock density, thaw depth, and soil depth. This wildfire occurred in 2007, and sampling took place in 2008-2011 and in 2017.
The ABoVE is a NASA Terrestrial Ecology Program field campaign being conducted in Alaska and western Canada, for 8 to 10 years, starting in 2015. Research for ABoVE links field-based, process-level studies with geospatial data products derived from airborne and satellite sensors, providing a foundation for improving the analysis, and modeling capabilities needed to understand and predict ecosystem responses to, and societal implications of, climate change in the Arctic and Boreal regions.
Additional data from ABoVE and other relevant links can be found on the ORNL DAAC's ABoVE Project Page.
Citation: Miller, E.A., R. Jandt, C.A. Baughman, B.M. Jones, and D.A. Yokel. 2022. ABoVE: Post-Fire and Unburned Field Site Data, Anaktuvuk River Fire Area, 2008-2017. ORNL DAAC, Oak Ridge, Tennessee, USA. https://doi.org/10.3334/ORNLDAAC/2119