Image Media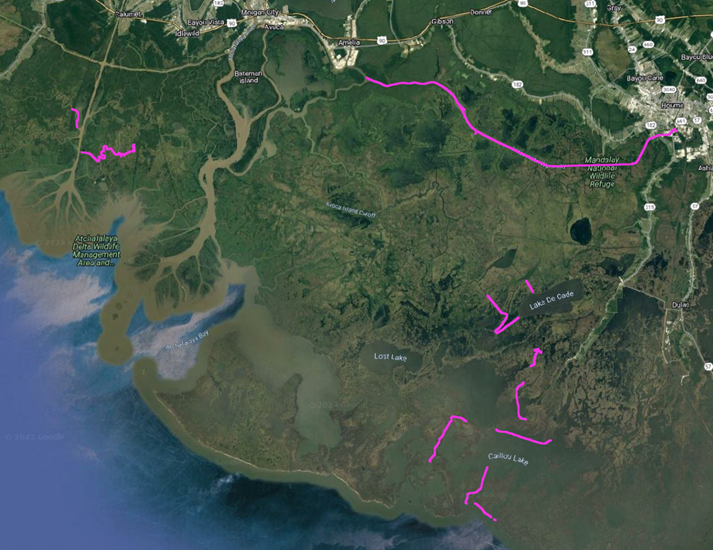 The ORNL DAAC recently released the following Delta-X dataset by Christensen, A.L. et al. (2023):
Delta-X: In-situ Water Surface Elevation, MRD, Louisiana, USA, 2021
This dataset contains water surface elevations collected from boat surveys performed on August 24 and September 22-25, 2021, across the Atchafalaya and Terrebonne basins in the Mississippi River Delta (MRD) floodplain, during the Delta-X Fall 2021 deployment. To perform the surveys, a Global Navigation Satellite System (GNSS) antenna (Septentrio receiver) was mounted on the side of the boat on a pole directly above the depth sounder. This GNSS antenna recorded observations of elevation continuously at 1 Hz on all field days. These data were post-processed using precise point positioning (PPP) and converted to water surface elevation by subtracting the height of the antenna above the water surface when it was mounted on the boat to provide an estimate of water surface elevation.The data are limited to times when the boat was moving slowly enough such that its speed didn't affect the height of the antenna above the water. The data are provided in comma-separated values (CSV) format.
Delta-X is a 5-year NASA Earth Ventures Suborbital-3 mission to study the Mississippi River Delta in the United States, which is growing and sinking in different areas. River deltas and their wetlands are drowning as a result of sea level rise and reduced sediment inputs. The Delta-X mission will determine which parts will survive and continue to grow, and which parts will be lost. Delta-X begins with airborne and in situ data acquisition and carries through data analysis, model integration, and validation to predict the extent and spatial patterns of future deltaic land loss or gain. 
Additional data from the Delta-X project can be found on the Delta-X Project page.
Citation: Christensen, A.L., J.M. Mallard, M. Simard, T.M. Pavelsky, and A. Rovai. 2023. Delta-X: In-situ Water Surface Elevation, MRD, Louisiana, USA, 2021. ORNL DAAC, Oak Ridge, Tennessee, USA. https://doi.org/10.3334/ORNLDAAC/2086