Image Media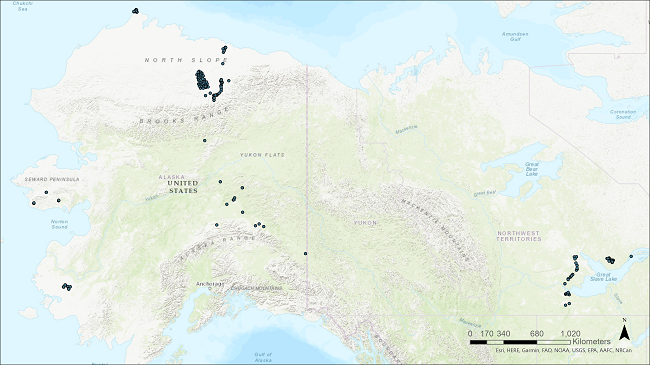 The ORNL DAAC recently released a new Arctic-Boreal Vulnerability Experiment (ABoVE) dataset by Schaefer, K., et al. (2021):
ABoVE: Soil Moisture and Active Layer Thickness in Alaska and NWT, Canada, 2008-2020
This dataset provides soil thaw depth and moisture (STDM) measurements and dielectric properties measured by different research teams at sites in Alaska, U.S., and the Northwest Territories, Canada. There are multiple observations per site and 352,719 total observations. The dataset includes 206,000 observations of active layer thickness measured by mechanical probing (6.0%) or ground penetrating radar (GPR) (94.0%). Approximately 16,000 volumetric water content measurements were collected using GPR (22.1%), Hydrosense I and II probes (75.3%), and DualEM (2.6%). Metadata includes the location, time, geospatial coordinates, technique, measurement teams. Measurements were typically collected in August and September near the end of the thaw season and cover the period 2008-06-22 to 2020-08-15.
The ABoVE is a NASA Terrestrial Ecology Program field campaign being conducted in Alaska and western Canada, for 8 to 10 years, starting in 2015. Research for ABoVE links field-based, process-level studies with geospatial data products derived from airborne and satellite sensors, providing a foundation for improving the analysis, and modeling capabilities needed to understand and predict ecosystem responses to, and societal implications of, climate change in the Arctic and Boreal regions.
Additional data from ABoVE and other relevant links can be found on the ORNL DAAC's ABoVE Project Page.
Citation: Schaefer, K., L.K. Clayton, M.J. Battaglia, L.L. Bourgeau-Chavez, R.H. Chen, A.C. Chen, J. Chen, K. Bakian-Dogaheh, T.A. Douglas, S.E. Grelick, G. Iwahana, E. Jafarov, L. Liu, S. Ludwig, R.J. Michaelides, M. Moghaddam, S. Natali, S.K. Panda, A.D. Parsekian, A.V. Rocha, S.R. Schaefer, T.D. Sullivan, A. Tabatabaeenejad, K. Wang, C.J. Wilson, H.A. Zebker, T. Zhang, and Y. Zhao. 2021. ABoVE: Soil Moisture and Active Layer Thickness in Alaska and NWT, Canada, 2008-2020. ORNL DAAC, Oak Ridge, Tennessee, USA. https://doi.org/10.3334/ORNLDAAC/1903