Image Media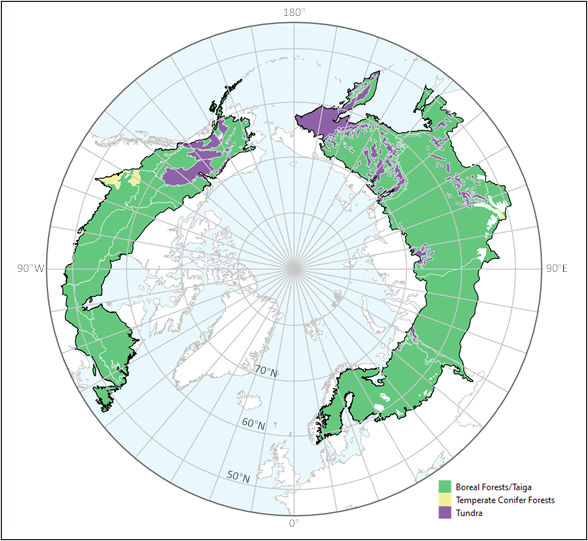 The ORNL DAAC recently released a new Arctic-Boreal Vulnerability Experiment (ABoVE) dataset by Feng, M., et al. (2022):
ABoVE: Tree Canopy Cover and Stand Age from Landsat, Boreal Forest Biome, 1984-2020
This dataset contains Landsat-derived locally-calibrated estimates of tree canopy cover (TCC) and forest stand age across global boreal forests from 1984-2020 in Cloud-Optimized GeoTIFF (*.tif) format. These raster data span the circum-hemispheric boreal forest biome between 47 to 73 degrees north at 30 m resolution. Machine learning models calibrated with data from the World Reference System 2 were used to predict TCC from Landsat data at 30-m spatial resolution at annual temporal resolution. Through analysis of TCC time series, forest change estimates of stand age from 1984-2020 were developed. The broad spatial and temporal coverage of these data provide insight into forest and carbon dynamics of the global boreal forest system. Boreal forests store a large proportion of global soil and biomass carbon and have experienced disproportionately high levels of warming over the past century.
The ABoVE is a NASA Terrestrial Ecology Program field campaign being conducted in Alaska and western Canada, for 8 to 10 years, starting in 2015. Research for ABoVE links field-based, process-level studies with geospatial data products derived from airborne and satellite sensors, providing a foundation for improving the analysis, and modeling capabilities needed to understand and predict ecosystem responses to, and societal implications of, climate change in the Arctic and Boreal regions.
Additional data from ABoVE and other relevant links can be found on the ORNL DAAC's ABoVE Project Page.
Citation: Feng, M., J.O. Sexton, P. Wang, S. Channan, P.M. Montesano, W. Wagner, M.R. Wooten, and C.S. Neigh. 2022. ABoVE: Tree Canopy Cover and Stand Age from Landsat, Boreal Forest Biome, 1984-2020. ORNL DAAC, Oak Ridge, Tennessee, USA. https://doi.org/10.3334/ORNLDAAC/2012