Image Media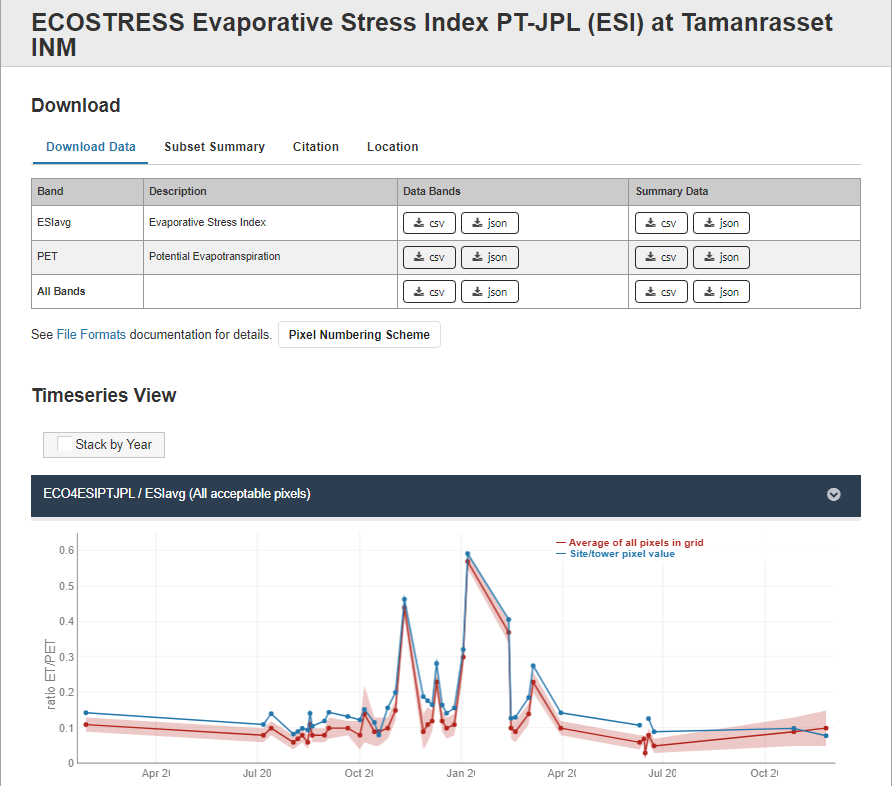 The ORNL DAAC recently added two products from the ECOsystem Spaceborne Thermal Radiometer Experiment on Space Station (ECOSTRESS) mission to the Fixed Sites Tool and the Web Service.
ECOSTRESS Evaporative Stress Index PT-JPL Daily L4 Global 70 m (ECO4ESIPTJPL v001)
ECOSTRESS Water Use Efficiency Daily L4 Global 70 m (ECO4WUE v001)
ECO4ESIPTJPL provides Evaporative Stress Index (ESI) data derived from the ratio of the Level 3 actual evapotranspiration (ET) to potential ET (PET) calculated as a part of the algorithm. ESI is an indicator of potential drought and plant water stress emphasizing areas of sub-optimal plant productivity.
ECO4WUE provides Water Use Efficiency (WUE) data. WUE is the ratio of carbon stored by plants to water evaporated by plants given as grams of carbon stored per kilogram of water evaporated over the course of the day from sunrise to sunset on the day acquired. 
The Fixed Site tool provides preprocessed subsets of ESI and WUE for more than 3,150 sites from 51 Networks in 129 countries.
The Web Service provides subsets of ESI and WUE for any user selected location globally. If you are new to webservices, please check it out. The page includes APIs to get you started, as well as tutorials and examples.