Image Media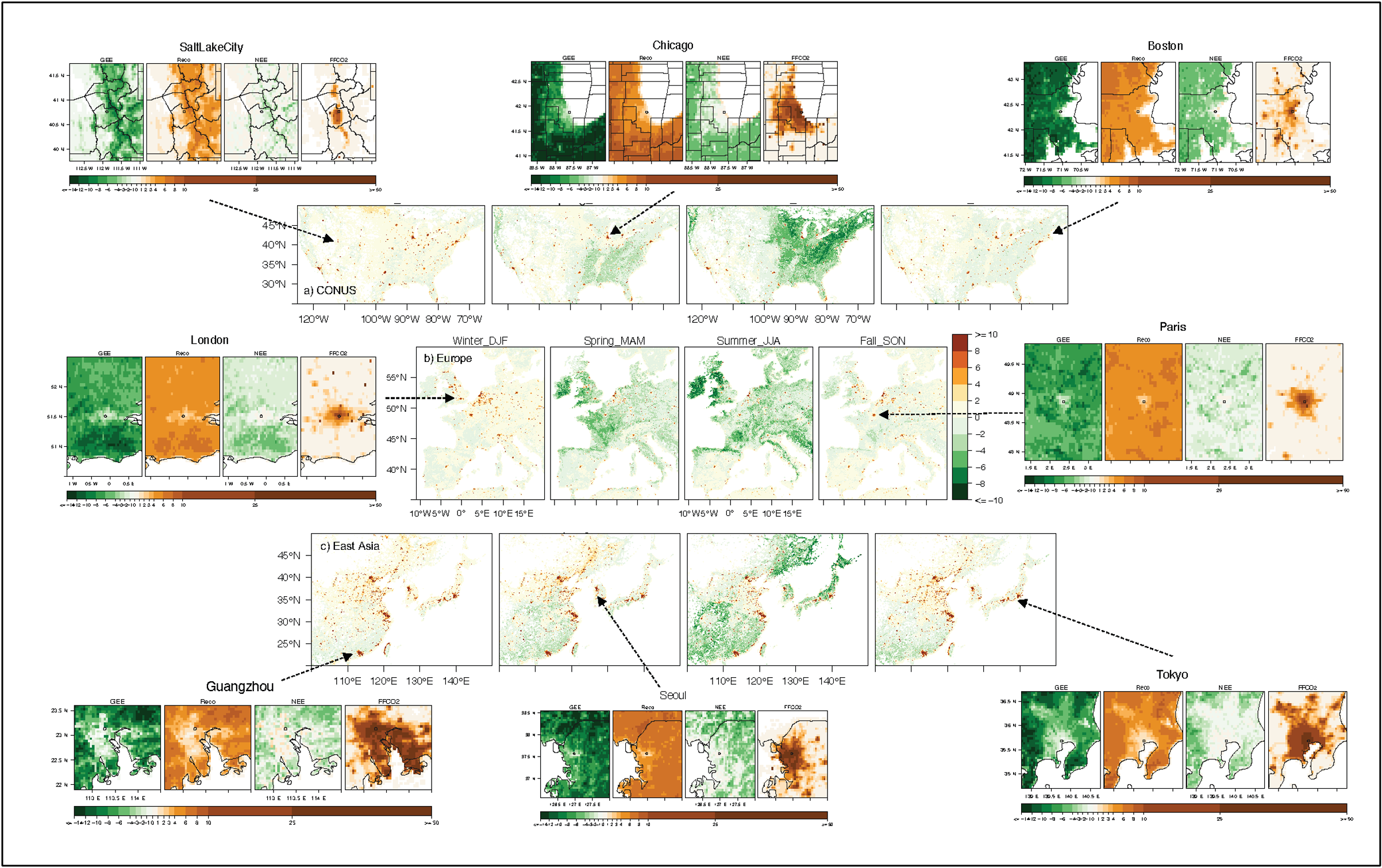 The ORNL DAAC is pleased to announce the release of a new dataset associated with The North American Carbon Program (NACP) by Wu, D., et al. (2021):
Urban Biogenic CO2 fluxes: GPP, Reco and NEE Estimates from SMUrF, 2010-2019
This dataset contains estimates of biogenic CO2 flux components at 0.05 degree resolution from the Solar-Induced Fluorescence (SIF) for Modeling Urban biogenic Fluxes (SMUrF) model. Estimates were produced for the following regions and periods: eastern and western CONUS (2010-2019), western Europe (2010-2014 and 2017-2018), eastern Asia, eastern China, eastern Australia, South America, and Central Africa (2017-2018). Modeled CO2 flux components include gross primary production (GPP), ecosystem respiration (Reco), and net ecosystem exchange (NEE). Four-day means of GPP are estimated from solar-induced fluorescence (SIF) and biome-specific GPP-SIF relationships. Input data streams included MODIS-based annual land cover classification,  spatiotemporally contiguous SIF, above-ground biomass from GlobBiomass, eddy-covariance flux measurements, and gridded products of air and soil temperatures.
The North American Carbon Program (NACP) is a multi-disciplinary research program designed to obtain scientific understanding of North America's carbon sources and sinks and of the changes in carbon stocks needed to meet societal concerns, and to provide tools for decision makers. NACP began in 2002 and continues to date. The NACP data collection contains continental carbon budgets, dynamics, processes, and management of the sources and sinks of carbon dioxide, methane, and carbon monoxide in North America and in adjacent ocean regions.
Additional data from NACP and other relevant links can be found on the ORNL DAAC's NACP Project Page.
Citation: Wu, D., and J.C. Lin. 2021. Urban Biogenic CO2 fluxes: GPP, Reco and NEE Estimates from SMUrF, 2010-2019. ORNL DAAC, Oak Ridge, Tennessee, USA. https://doi.org/10.3334/ORNLDAAC/1899