Image Media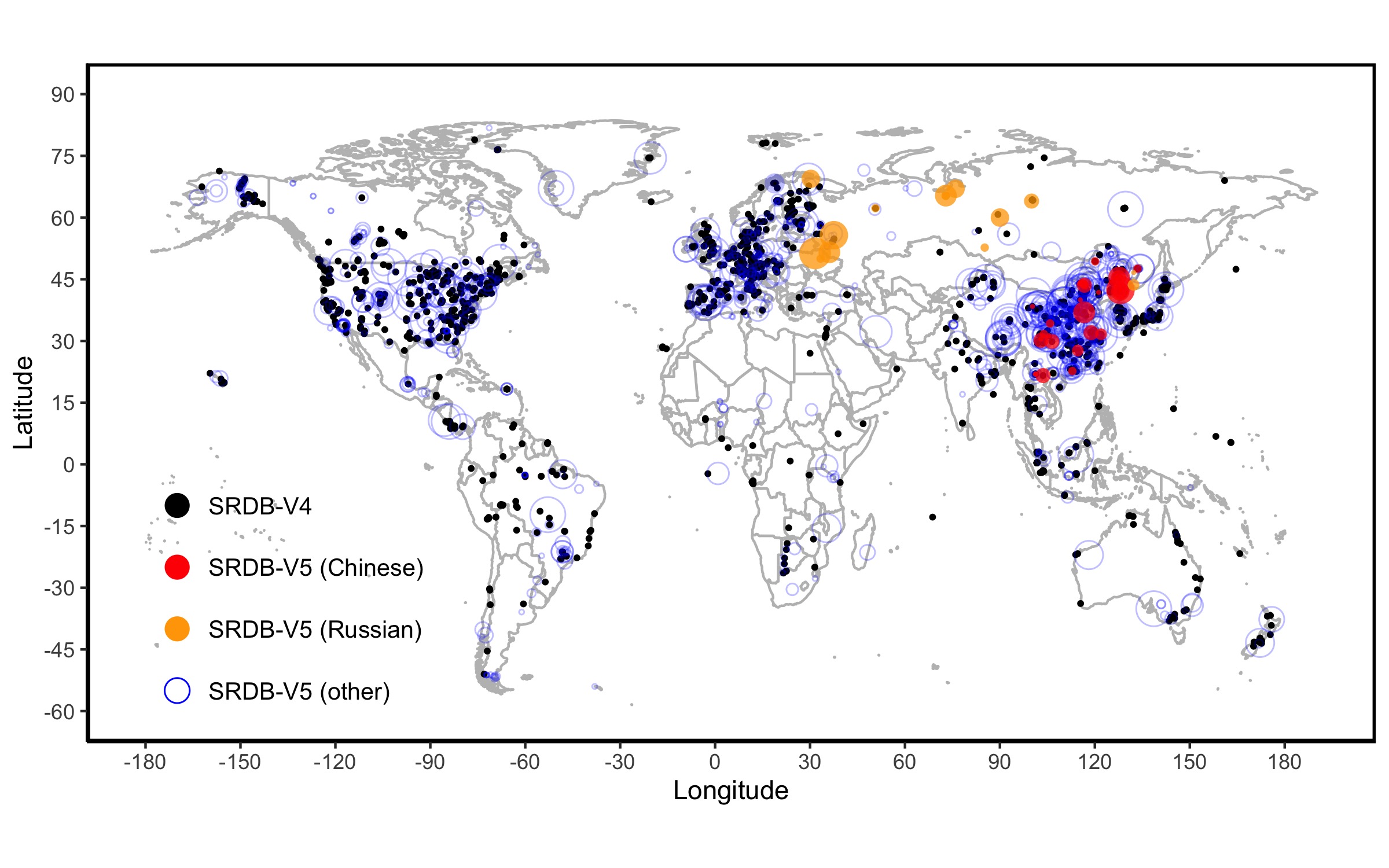 The ORNL DAAC recently released the fifth version of the ever popular dataset on global soil respiration compiled from literature by Jian, J. et al, 2021: 
 A Global Database of Soil Respiration Data, Version 5.0
This dataset provides the data from Version 5.0 of the Global Soil Respiration Database which is now a near-universal compendium of published soil respiration (Rs) data from studies that report at least one of the following data measured in the field: annual soil respiration, mean seasonal soil respiration, a seasonal or annual partitioning of soil respiration into its source fluxes, soil respiration temperature response (Q10), or soil respiration at 10 degrees C. The 2,266 published studies with measurements taken between 1961-2017 and increased observations from literature published in Russian and Chinese provide a better global spatio-temporal coverage and improved global climate-space representation over previously available data. 
Additionally version 5 of this dataset has been restructured to have better interoperability with other datasets related to carbon-cycle science. Soil respiration, the flux of autotrophically-and heterotrophically-generated CO2 from the soil to the atmosphere, remains the least well-constrained component of the terrestrial carbon cycle. This dataset aims to provide opportunities for the biogeochemistry community to better understand the spatial and temporal variability of Rs, its compoenets, and the overall carbon cycle.
Additional datasets containing soils data can be found through the ORNL DAAC's Soils Science Theme Lister . 
Citation: Jian, J., R. Vargas, K.J. Anderson-Teixeira, E. Stell, V. Herrmann, M. Horn, N. Kholod, J. Manzon, R. Marchesi, D. Paredes, and B.P. Bond-Lamberty. 2021. A Global Database of Soil Respiration Data, Version 5.0. ORNL DAAC, Oak Ridge, Tennessee, USA. https://doi.org/10.3334/ORNLDAAC/1827