Image Media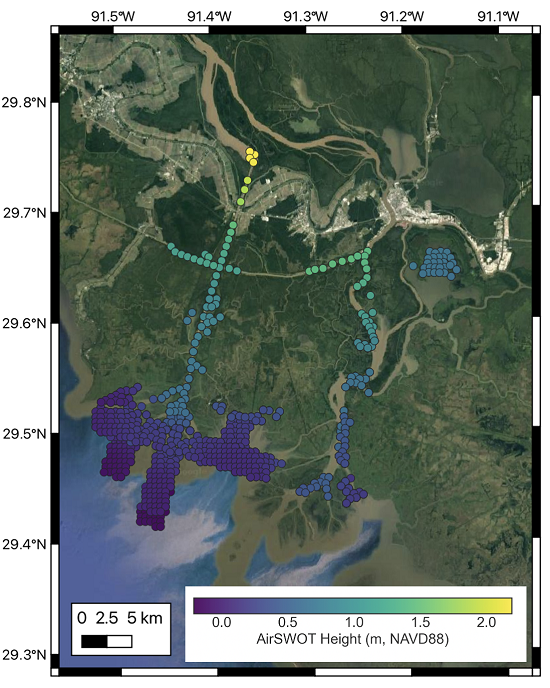 The ORNL DAAC recently released the following Delta-X dataset by Denbina, M.W., et al. (2022):
Delta-X: AirSWOT L3 Water Surface Elevations, MRD, Louisiana, 2021
This dataset contains water surface elevations at selected point locations generated from the AirSWOT data collected during the Spring and Fall 2021 Delta-X deployments over the Atchafalaya and Terrebonne basins in Louisiana, USA. AirSWOT uses near-nadir wide-swath Ka-band radar interferometry to measure water-surface elevation and produce continuous gridded elevation data. The Level 3 (L3) data were created by masking land areas out of the AirSWOT Level 2 products, then filtering and averaging to the AirSWOT heights to produce water surface elevations at selected points throughout the scene. The AirSWOT elevation data are useful for calibrating elevation and slopes along the main channels, as well as tying observations to open ocean tidal conditions. AirSWOT performance in the floodplain was limited by the presence of vegetation and the very small slope characteristic of two dimensional floodplain discharge. Therefore, the bulk of the AirSWOT data collections were targeted at the larger channels, since the channel discharge provides the necessary boundary conditions for potential overflow to islands and floodplains. The data are provided in comma-separated values (CSV) format.
Delta-X is a 5-year NASA Earth Ventures Suborbital-3 mission to study the Mississippi River Delta in the United States, which is growing and sinking in different areas. River deltas and their wetlands are drowning as a result of sea level rise and reduced sediment inputs. The Delta-X mission will determine which parts will survive and continue to grow, and which parts will be lost. Delta-X begins with airborne and in situ data acquisition and carries through data analysis, model integration, and validation to predict the extent and spatial patterns of future deltaic land loss or gain. 
Additional data from the Delta-X project can be found on the Delta-X Project page.
Citation: Denbina, M.W., M. Simard, and E. Rodriguez. 2022. Delta-X: AirSWOT L3 Water Surface Elevations, MRD, Louisiana, 2021. ORNL DAAC, Oak Ridge, Tennessee, USA. https://doi.org/10.3334/ORNLDAAC/2133