Image Media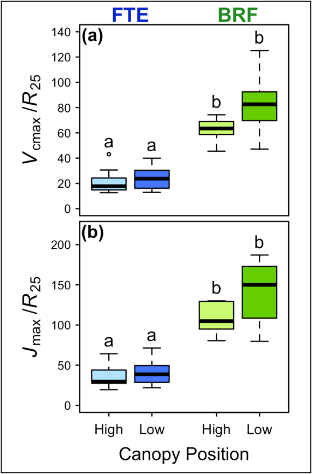 The ORNL DAAC recently released a new Arctic-Boreal Vulnerability Experiment (ABoVE) dataset by Schmiege, S.C. et al. (2023):
ABoVE: White Spruce Photosynthetic and Leaf Traits, Alaska and New York, 2017
This dataset provides measurements of gas exchange (light response curves, Kok curves and ACi curves), leaf traits (carbon, nitrogen, and specific leaf area), leaf pigments (Chlorophyll a, Chlorophyll b and Carotenoids), the photochemical reflectance index (PRI), and average photosynthetic photon flux density as collected from hemispherical photographs. Data were collected on white spruce trees (Picea glauca (Moench) Voss) growing at the northern edge of the species' distribution in Alaska and at the southern edge of the species' distribution in Black Rock Forest (BRF), New York. Measurements were taken at high and low canopy positions on each tree at both sites during the 2017 growing season (2017-06-19 to 2017-07-20). Gas exchange, leaf trait, pigment and spectral measurements were obtained using a portable photosynthesis system (LI-6800, LI-COR, Lincoln, NE). Photochemical reflectance index was determined using a spectroradiometer, and hemispherical photographs were taken with a digital camera. These data were collected to better understand how vertical canopy gradients in photosynthetic physiology change from the southernmost to the northernmost range extremes of white spruce. The data are provided in comma-separated value (CSV) format.
The ABoVE is a NASA Terrestrial Ecology Program field campaign being conducted in Alaska and western Canada, for 8 to 10 years, starting in 2015. Research for ABoVE links field-based, process-level studies with geospatial data products derived from airborne and satellite sensors, providing a foundation for improving the analysis, and modeling capabilities needed to understand and predict ecosystem responses to, and societal implications of, climate change in the Arctic and Boreal regions.
Additional data from ABoVE and other relevant links can be found on the ORNL DAAC's ABoVE Project Page.
Citation: Schmiege, S.C., K. Griffin, N.T. Boleman, L. Vierling, S.G. Bruner, E. Min, A.J. Maguire, J. Jensen, and J. Eitel. 2023. ABoVE: White Spruce Photosynthetic and Leaf Traits, Alaska and New York, 2017. ORNL DAAC, Oak Ridge, Tennessee, USA. https://doi.org/10.3334/ORNLDAAC/2124