Image Media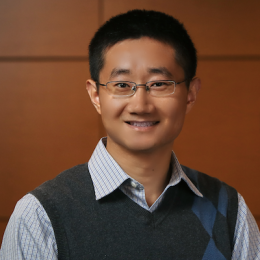 In January 2020, Dr. Yaxing Wei was named the new Lead Scientist for the ORNL DAAC, challenged to ensure that the science needs of the NASA Terrestrial Ecology community are ever present within the ORNL DAAC Mission. Dr. Wei serves as Vice-Chair of the ORNL DAAC User Working Group and works closely with Dr. Debjani Singh to lead activities of the ORNL DAAC Science Team to ensure the needs of missions assigned for archival at the ORNL DAAC are met.
Wei has contributed significantly to NASA's Terrestrial Ecology Program as an investigator of the North American Carbon Program (NACP)'s Multi-scale synthesis of Terrestrial Model Intercomparison Project (MSTMIP) and currently serves as a member of the NACP Science Leadership Group (SLG) to assist in the coordination of the scientific activities of NACP's components. He is one of the authors of Daymet: Daily Surface Weather Data on a 1-km Grid for North America, Version 3, and is actively working toward the development of Daymet Version 4.
Dr. Wei created the ORNL DAAC's Spatial Data Access Tool (SDAT), a Web-based data infrastructure that standardizes data archived at the ORNL DAAC to interactively visualize and download data through Open Geospatial Consortium (OGC) web services, and is a recipient of the 2015 International Council for Science's World Data System (WDS) Data Stewardship Award.
You'll see Dr. Wei championing NASA's best practices for data management, quality, and interoperability in the Federation of Earth Science Information Partners (ESIP), at various NASA Science Team Meetings, and through the Earth Science Data and Information System (ESDIS) Standards Office (ESO).
Read more about Yaxing and his work at the Oak Ridge National Laboratory.