Image Media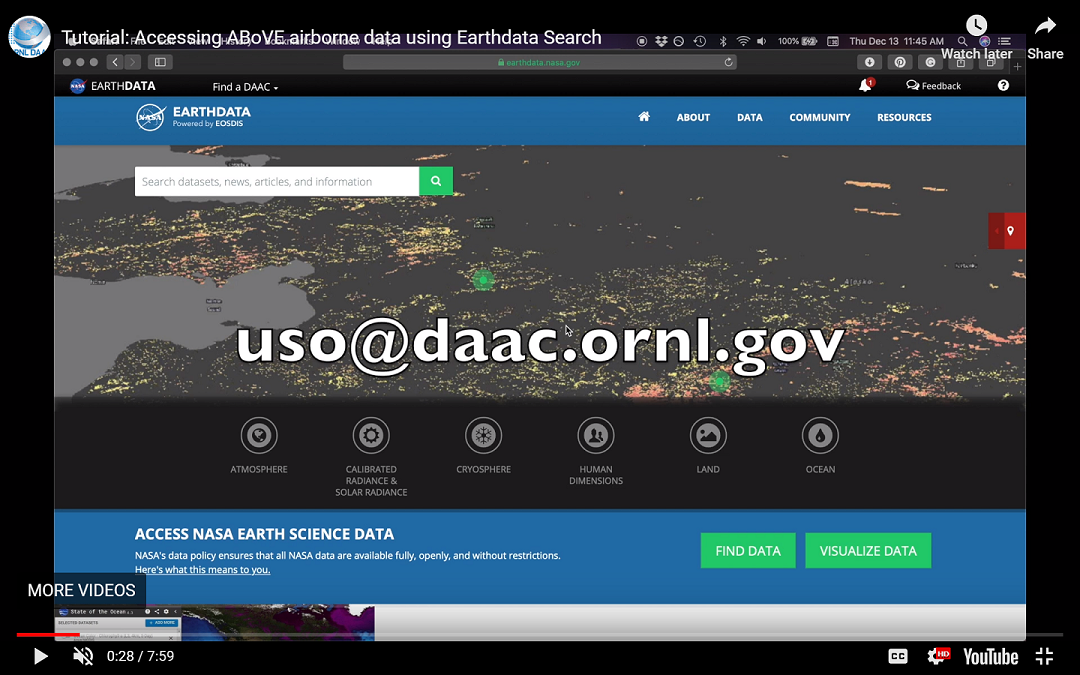 Accessing ABoVE airborne data using Earthdata Search
A new video tutorial from ORNL DAAC demonstrates how to use Earthdata Search to access and download data from the ABoVE airborne campaign in a spatial region of interest. Earthdata Search is a NASA Earth Observing System Data and Information System client for discovering, searching, visualizing, and retrieving Earth science data.
The video includes a step-by-step screen recording, voice over instructions, and closed captioning. Written instructions are also provided on the ORNL DAAC Resources page.
The featured dataset provides hyperspectral imagery from the AVIRIS-NG instrument collected during the 2017 ABoVE campaign in the Alaskan and Canadian Arctic.
See all data from the ABoVE campaign.
Data Citation: Miller, C.E., R.O. Green, D.R. Thompson, A.K. Thorpe, M. Eastwood, I.B. Mccubbin, W. Olson-duvall, M. Bernas, C.M. Sarture, S. Nolte, L.M. Rios, M.A. Hernandez, B.D. Bue, and S.R. Lundeen. 2018. ABoVE: Hyperspectral Imagery from AVIRIS-NG for Alaskan and Canadian Arctic, 2017. ORNL DAAC, Oak Ridge, Tennessee, USA. https://doi.org/10.3334/ORNLDAAC/1569
Data Center: ORNL DAAC
Sponsor: EOSDIS