AirSWOT Ka-band Radar from ABoVE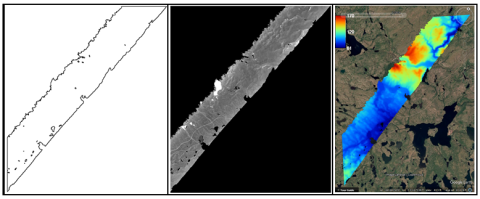 Example of AirSWOT radar products in ABoVE Projection at 3.6 m resolution, for a flight over the ABoVE C grid Ch065v034. Left: Shape for backscatter image. Middle: Backscatter magnitude shows bright reflection in the near range and no returns, yielding regions of no data, in the far range. Right: Derived elevation product.
ABoVE: AirSWOT Ka-band Radar over Surface Waters of Alaska and Canada, 2017
A new dataset from The Arctic-Boreal Vulnerability Experiment (ABoVE) mission provides AirSWOT Ka-band (35.75 GHz) radar data products collected from an airborne platform over parts of Alaska and Canada from July 9, 2017 to August 17, 2017. AirSWOT is an airborne calibration and validation instrument for the upcoming Surface Water Topography Mission (SWOT) satellite. AirSWOT is capable of producing high resolution digital elevation models over land and water bodies. Flights targeted specific surface water features, including rivers, lakes, ponds, and wetlands in the ABoVE domain.
The radar data include six products: elevation (above the WGS84 ellipsoid), incidence angle, magnitude (backscatter), interferometric correlation (coherence), DHDPHI (incidence angle dependent height sensitivity), and error (estimated height random error, 1-sigma standard deviation). These data complement a related dataset of three-band orthomosaics of green, red, and near-infrared (NIR) digital imagery at 1m resolution collected over the same areas and time period.
ABoVE is a NASA Terrestrial Ecology Program field campaign in Alaska and western Canada conducted between 2016 and 2021. Research for ABoVE will link field-based, process-level studies with geospatial data products derived from airborne and satellite sensors, providing a foundation for improving the analysis, and modeling capabilities needed to understand and predict ecosystem responses and societal implications. See all ORNL DAAC datasets from the ABoVE field campaign.
Data Citation: Fayne, J.V., L.C. Smith, L.H. Pitcher, and T.M. Pavelsky. 2019. ABoVE: AirSWOT Ka-band Radar over Surface Waters of Alaska and Canada, 2017. ORNL DAAC, Oak Ridge, Tennessee, USA. https://doi.org/10.3334/ORNLDAAC/1646
Related Dataset: Kyzivat, E.D., L.C. Smith, L.H. Pitcher, J. Arvesen, T.M. Pavelsky, S.W. Cooley, and S. Topp. 2018. ABoVE: AirSWOT Color-Infrared Imagery Over Alaska and Canada, 2017. ORNL DAAC, Oak Ridge, Tennessee, USA. https://doi.org/10.3334/ORNLDAAC/1643