Image Media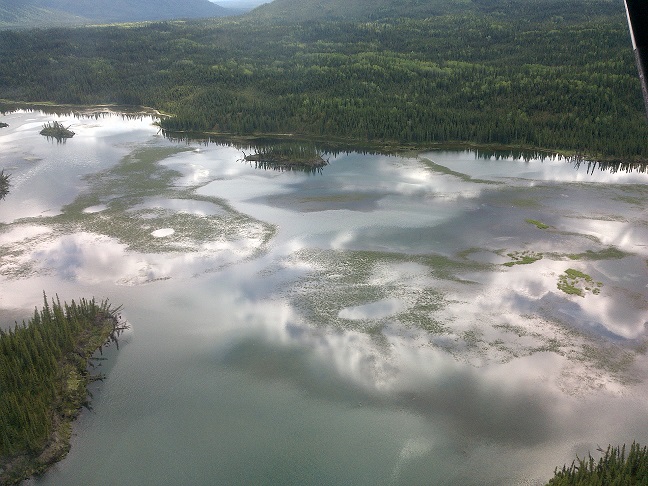 ABoVE: Environmental Conditions and Subsistence Resource Access, Alaska, 2016-2017
A new dataset collected for the Arctic-Boreal Vulnerability Experiment (ABoVE) provides descriptions and photos of environmental conditions that impact the availability of subsistence resources for residents in nine rural communities within the Yukon River basin of Interior Alaska for the period February 2016 to June 2017. The research aimed to assess how climate-related environmental conditions restrict or facilitate access to traditional and customary use areas.
The data were collected by community volunteers while they were engaged in subsistence harvesting activities. Each photo documents a change in an environmental condition and is accompanied by an explanation of how the condition affected the volunteer's access to subsistence resources, the frequency, and extent of the condition, etc. For example, the above photo featured an "extreme amount of lake grass" that makes it "harder to get around with outboards" so that the volunteer, Matt Snyder, had to use "a go devil style outboard" while hunting or fishing. Mr. Snyder first observed the lake grass in 2006, and the change in the vegetative community composition "seems more extreme" over the last 10 years.
The Arctic-Boreal Vulnerability Experiment (ABoVE) is a NASA Terrestrial Ecology Program field campaign conducted in Alaska and western Canada that will allow scientists to better predict ecosystem responses to, and societal implications of, climate change in the Arctic and Boreal regions. See all ORNL DAAC data from ABoVE.
Data Citation: Brown, D.R.N., H.S. Cold, T.J. Brinkman, C. Adams, A. Demientieff, I. Demientieff, R. Demientieff, E. Frank, G. Frank, D. Painter, J. Roberts, M. Snyder, C. Taylor, J. Turner, C. Wallace, and M. Walsh. 2019. ABoVE: Environmental Conditions and Subsistence Resource Access, Alaska, 2016-2017. ORNL DAAC, Oak Ridge, Tennessee, USA. https://doi.org/10.3334/ORNLDAAC/1705
Data Center: ORNL DAAC
Sponsor: EOSDIS