Image Media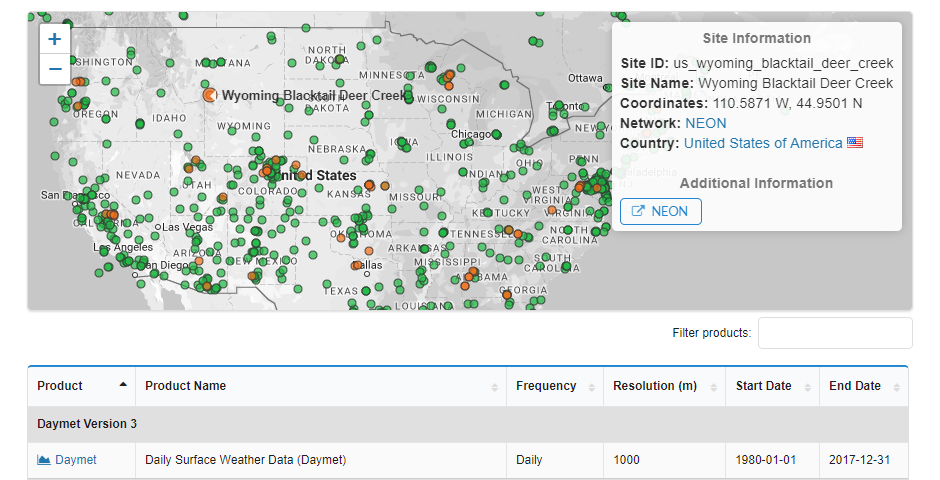 The ORNL DAAC Fixed Sites Subsets Tool now provides pre-processed Daymet weather data for all North American sites.
The Fixed Sites Subsets Tool provides customized subsets and visualizations of several MODIS and VIIRS land products and Daymet daily surface weather data for selected field and flux tower sites around the world. Spatial subsets of the land products are available for predefined areas of about 8 X 8 km centered on the site. The site-specific data can be downloaded in both comma separated value (*.csv) and JSON formats.
The Daymet dataset provides gridded estimates of daily weather parameters for North America, including daily continuous surfaces of minimum and maximum temperature, precipitation occurrence and amount, humidity, shortwave radiation, snow water equivalent, and day length in a 1 km spatial resolution.
See all data from Daymet
Data Citation: Thornton, P.E., M.M. Thornton, B.W. Mayer, Y. Wei, R. Devarakonda, R.S. Vose, and R.B. Cook. 2018. Daymet: Daily Surface Weather Data on a 1-km Grid for North America, Version 3. ORNL DAAC, Oak Ridge, Tennessee, USA. https://doi.org/10.3334/ORNLDAAC/1328
Data Center: ORNL DAAC
Sponsor: NASA EODIS