Image Media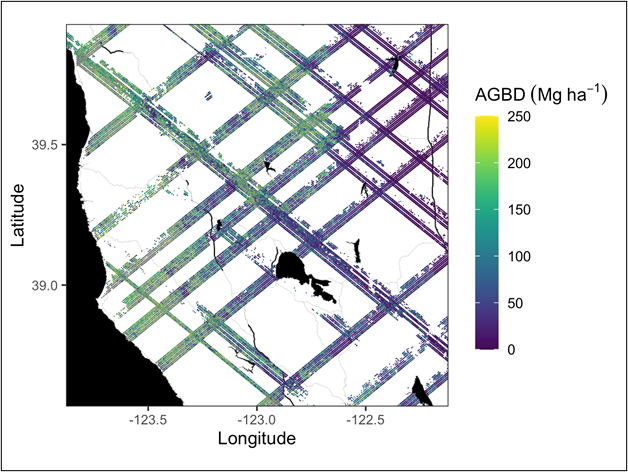 The ORNL DAAC recently released a new version of the GEDI L4A dataset by Dubayah, R.O., et al., 2021:
GEDI L4A Footprint Level Aboveground Biomass Density, Version 2
This dataset contains Global Ecosystem Dynamics Investigation (GEDI) Level 4A (L4A) Version 2 predictions of the aboveground biomass density (AGBD; in Mg/ha) and estimates of the prediction standard error within each sampled geolocated laser footprint. In this version, the granules are in sub-orbits. The algorithm setting group selection used has been modified for Evergreen Broadleaf Trees in South America to reduce false positive errors resulting from the selection of waveform modes above ground elevation as the lowest mode. The footprints are located within the global latitude band observed by the International Space Station (ISS), nominally 51.6 degrees N and S and reported for the period 2019-04-18 to 2021-08-05.
To read more about this dataset click here. If you are ready to work with this data, check out the tutorials available from the ORNL DAAC or explore the data through our Global Subsets Tool. 
The Global Ecosystem Dynamics Investigation (GEDI) produces high resolution laser ranging observations of the 3D structure of the Earth. GEDI's precise measurements of forest canopy height, canopy vertical structure, and surface elevation greatly advance our ability to characterize important carbon and water cycling processes, biodiversity, and habitat. GEDI was funded as a NASA Earth Ventures Instrument (EVI) mission. It was launched to the International Space Station in December 2018 and completed initial orbit checkout in April 2019.
Additional data from the GEDI mission can be found on the GEDI Project Page.
Citation: Dubayah, R.O., J. Armston, J.R. Kellner, L. Duncanson, S.P. Healey, P.L. Patterson, S. Hancock, H. Tang, J. Bruening, M.A. Hofton, J.B. Blair, and S.B. Luthcke. 2021. GEDI L4A Footprint Level Aboveground Biomass Density, Version 2. ORNL DAAC, Oak Ridge, Tennessee, USA. https://doi.org/10.3334/ORNLDAAC/1986