Image Media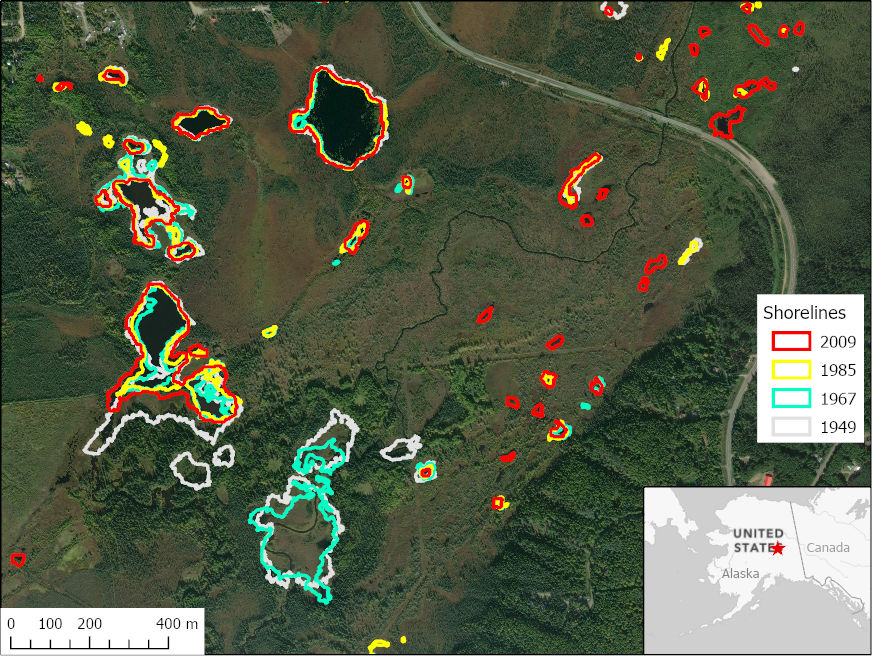 The ORNL DAAC recently released the following Arctic-Boreal Vulnerability Experiment (ABoVE) dataset by Anthony, K.W. et al. (2021):
ABoVE: Historical Lake Shorelines and Areas near Fairbanks, Alaska, 1949-2009
This dataset includes historical lake shorelines with derived lake areas in the southern portion of the Goldstream Valley and the surrounding landscape north of Fairbanks, Alaska, USA. Historical lake margins were mapped for 1949, 1967, and 1985 using 1 m aerial photographs available through U.S. Geological Survey Earth Explorer, and for 2009 using 2.5 m SPOT satellite image mosaics. The study area was a 214 square km area of Pleistocene-aged yedoma permafrost in the southern portion of the Goldstream Valley. An increasing number of thermokarst lakes and ponds, from 130-275 per year, were identified over the entire study period. Anthropogenic lakes, formed by mining peat, gravel, and gold concentrated in the northwestern extent of Goldstream Valley, were excluded. The locations and size of these thermokarst lakes are related to the freeze and thaw dynamics of permafrost in this region. These data can be used in spatial and temporal analyses related to identifying lake locations, the appearance and disappearance of lakes, and changes in lake area because of thermokarst.
The ABoVE is a NASA Terrestrial Ecology Program field campaign being conducted in Alaska and western Canada, for 8 to 10 years, starting in 2015. Research for ABoVE links field-based, process-level studies with geospatial data products derived from airborne and satellite sensors, providing a foundation for improving the analysis, and modeling capabilities needed to understand and predict ecosystem responses to, and societal implications of, climate change in the Arctic and Boreal regions.
Additional data from ABoVE and other relevant links can be found on the ORNL DAAC's ABoVE Project Page.
Citation: Anthony, K.W., and P. Lindgren. 2021. ABoVE: Historical Lake Shorelines and Areas near Fairbanks, Alaska, 1949-2009. ORNL DAAC, Oak Ridge, Tennessee, USA. https://doi.org/10.3334/ORNLDAAC/1859