Image Media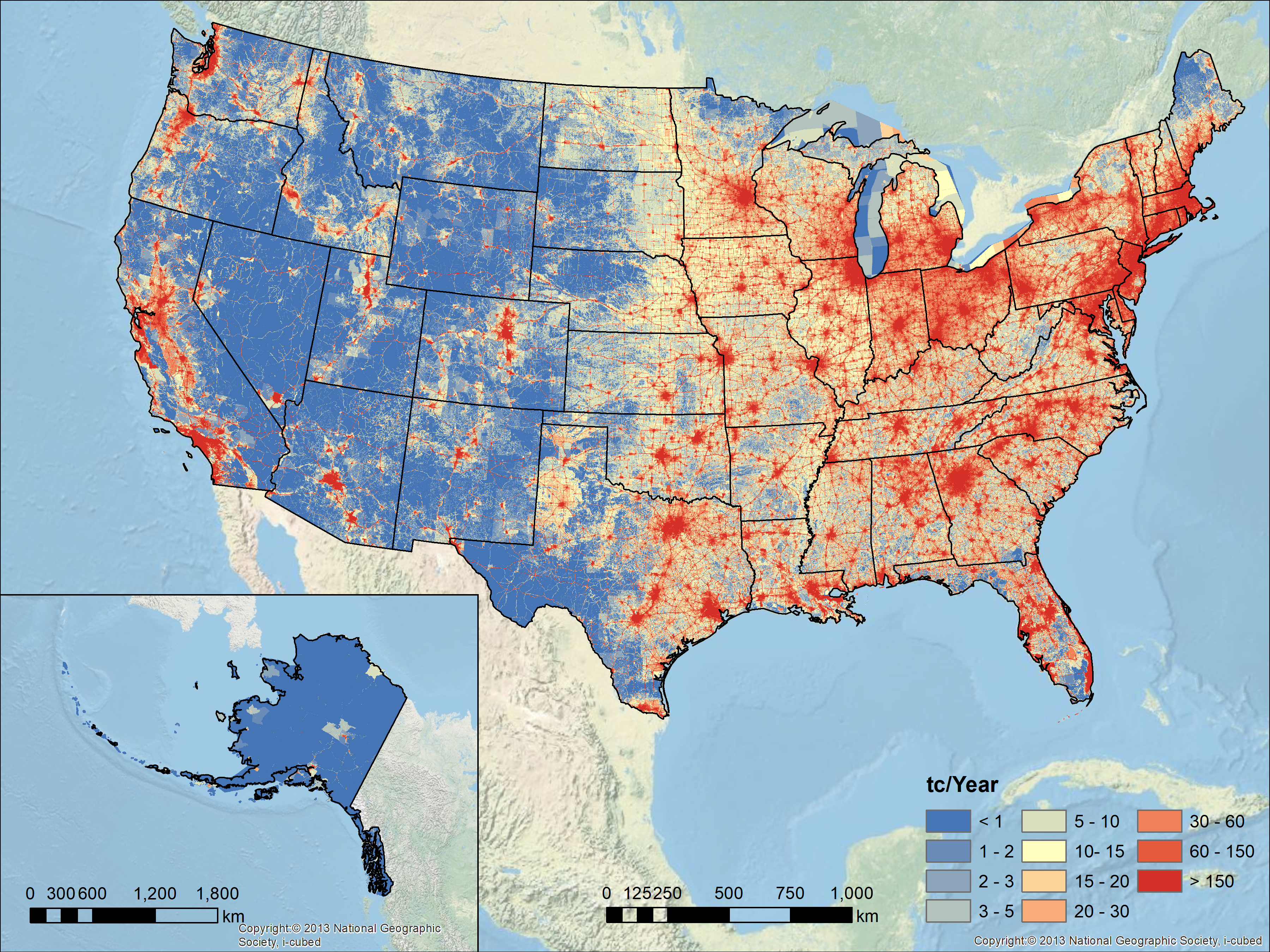 Vulcan: High-Resolution Annual Fossil Fuel CO2 Emissions in USA, 2010-2015, Version 3
Vulcan: High-Resolution Hourly Fossil Fuel CO2 Emissions in USA, 2010-2015, Version 3
These datasets from the North American Carbon Program (NACP) provide high-resolution Vulcan version 3.0 estimates of carbon dioxide (CO2) emissions from the combustion of fossil fuels (FF) and cement production for the conterminous United States and the State of Alaska at hourly and annual temporal resolutions for the 2010-2015 time period.
The annual and hourly datasets provide estimates of CO2 emissions categorized into 10 source sectors including residential, commercial, industrial, electricity production, onroad, nonroad, commercial marine vessel, airport, rail, and cement. The annual data are sums of the hourly estimates.  The annual dataset also provides the upper 95% and lower 95% confidence interval for each estimate. Total emissions from all source sectors combined are also provided. These data are designed to be used as emission estimates in atmospheric transport modeling, policy, mapping, and other data analyses and applications. Vulcan v3.0 is constructed from numerous public datasets that generate the magnitude, spatial representation, and temporal representation of FFCO2 emissions.
The NACP is a multidisciplinary research program designed to improve understanding of North America's carbon sources, sinks, and stocks. The central objective is to measure and understand the sources and sinks of Carbon Dioxide (CO2), Methane (CH4), and Carbon Monoxide (CO) in North America and adjacent oceans. The NACP is supported by a number of different federal agencies.
Additional data from NACP and other relevant links can be found on the ORNL DAAC's NACP Project Page.
Data Citations
Gurney, K.R., J. Liang, R. Patarasuk, Y. Song, J. Huang, and G. Roest. 2019. Vulcan: High-Resolution Annual Fossil Fuel CO2 Emissions in USA, 2010-2015, Version 3. ORNL DAAC, Oak Ridge, Tennessee, USA. https://doi.org/10.3334/ORNLDAAC/1741
Gurney, K.R., J. Liang, R. Patarasuk, Y. Song, J. Huang, and G. Roest. 2020. Vulcan: High-Resolution Hourly Fossil Fuel CO2 Emissions in USA, 2010-2015, Version 3. ORNL DAAC, Oak Ridge, Tennessee, USA. https://doi.org/10.3334/ORNLDAAC/1810