Image Media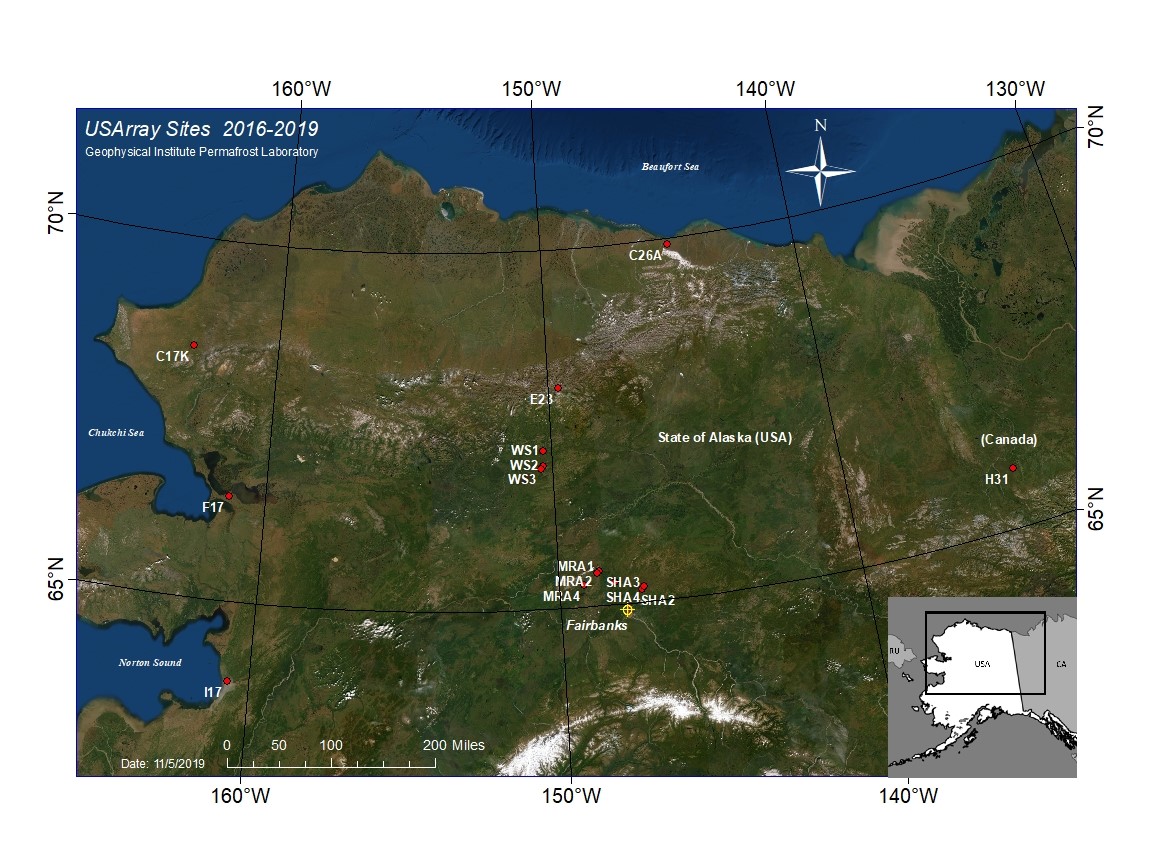 ABoVE: Soil Temperature Profiles, USArray Seismic Stations, AK and Canada, 2016-2019
This dataset from the Arctic-Boreal Vulnerability Experiment (ABoVE) includes soil temperature profile measurements taken at 16 monitoring sites in Alaska, USA, and at one site in Yukon, Canada. Six of the sites are collocated with seismic stations of the USArray program. The measurement dates, frequencies, and depths vary per site. Measurements were made from 2016-2018 at two sites, 2017-2019 at four sites, and 2018-2019 at 11 sites using temperature sensors attached to HOBO data loggers. These measurement stations complement existing temperature monitoring networks allowing for better characterization of ground temperatures and permafrost conditions across Alaska.
This dataset is the second set of soil temperature profile measurements collected at USArray stations. The dataset ABoVE: Soil Temperature Profiles at USArray Seismic Stations, Alaska, 2016-2018 provides similar data from 20 USArray sites.
ABoVE is a NASA Terrestrial Ecology Program field campaign in Alaska and western Canada from 2016 to 2021. Research for ABoVE will link field-based, process-level studies with geospatial data products derived from airborne and satellite sensors, providing a foundation for improving the analysis, and modeling capabilities needed to understand and predict ecosystem responses and societal implications. See all ORNL DAAC data from ABoVE.
Data Citation: Nicolsky, D.J., V.E. Romanovsky, A.L. Kholodov, K. Dolgikh, and N. Hasson. 2020. ABoVE: Soil Temperature Profiles, USArray Seismic Stations, AK and Canada, 2016-2019. ORNL DAAC, Oak Ridge, Tennessee, USA. https://doi.org/10.3334/ORNLDAAC/1767