Image Media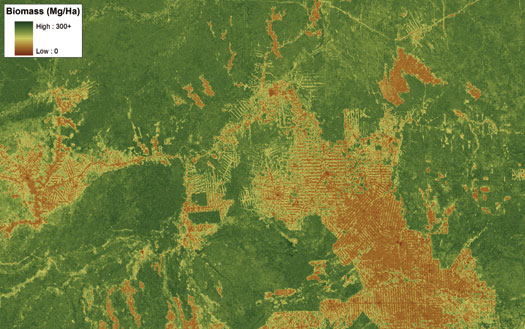 MODIS satellite data inform study of human land use patterns and changes in ecological communities in tropical forests around the world.
Land use has long been recognized as a profound influence on ecological communities. Precisely quantifying this influence is an essential step towards ecological sustainability but has been problematic because responses to a given impact can vary among response variables, and both among and within major taxa. A recent study led by Tim Newbold of the United Nations Environment Programme World Conservation Monitoring Centre, provides a clearer picture of the consistent and profound effect that land use has on ecological communities throughout the world's tropical and sub-tropical forest biome and shows that different taxonomic groups, and different types of species within taxonomic groups, respond very differently to land-use change.
Using data collated as part of the projecting responses of ecological diversity in changing terrestrial systems (PREDICTS) project (www.predicts.org.uk), including subsets of MODIS land products from the ORNL DAAC, they present an analysis of individual species' responses to land-use and land-use intensity throughout the world's tropical and sub-tropical forests.
Overall, the results demonstrate that transformation of habitats for human land use is causing consistent reductions in species richness and changes in abundance, altering ecological communities in tropical and sub-tropical forests around the world. Human-dominated habitats have fewer species than natural habitats. The results add to a growing body of evidence that humans are causing fundamental changes to community structure.
Article Link: http://rspb.royalsocietypublishing.org/content/281/1792/20141371.full#s…
Article Citation: Tim Newbold, Lawrence N. Hudson, Helen R. P. Phillips, Samantha L. L. Hill, Sara Contu, Igor Lysenko, Abigayil Blandon, Stuart H. M. Butchart, Hollie L. Booth, Julie Day, Adriana De Palma, Michelle L. K. Harrison, Lucinda Kirkpatrick, Edwin Pynegar, Alexandra Robinson, Jake Simpson, Georgina M. Mace, Jörn P. W. Scharlemann, and Andy Purvis. 2014. A global model of the response of tropical and sub-tropical forest biodiversity to anthropogenic pressures Proc. R. Soc. B. 281:20141371; doi:10.1098/rspb.2014.1371 1471-2954
Data Set: MODIS Global Subset Tool