Image Media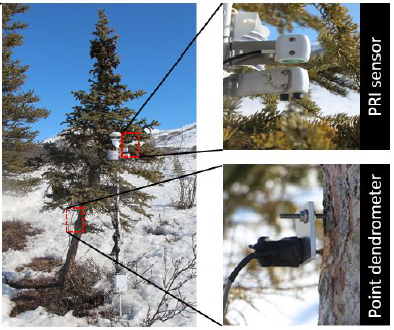 ABoVE: Photochemical Reflectance and Tree Growth, Brooks Range, Alaska, 2018-2019
This dataset from the Arctic-Boreal Vulnerability Experiment (ABoVE) helps to better understand the suitability of using a photochemical reflectance index (PRI) to remotely track tree growth of white spruce at high latitudes. The study design included simultaneous in-situ measurements of PRI and near continuous measurements of tree stem radius using point dendrometers of selected white spruce trees (Picea glauca (Moench) Voss).  The study site was at the northern treeline in the Brooks Range of Alaska, south of Chandalar Shelf and Atigun Pass on the east side of the Dalton Highway. PRI and dendrometer measurements were simultaneously collected on 29 trees from six plots spaced along a 5.5 km transect from south to north where tree density becomes increasingly sparse. Measurements were made throughout the 2018 and 2019 growing seasons (May 1 to September 15) with a sampling interval of 5 minutes. 
ABoVE is a NASA Terrestrial Ecology Program field campaign being conducted in Alaska and western Canada, for 8 to 10 years, starting in 2015. Research for ABoVE links field-based, process-level studies with geospatial data products derived from airborne and satellite sensors, providing a foundation for improving the analysis, and modeling capabilities needed to understand and predict ecosystem responses to, and societal implications of, climate change in the Arctic and Boreal regions.
Additional data from ABoVE and other relevant links can be found on the ORNL DAAC's ABoVE Project Page.
Data Citation: Eitel, J., A.J. Maguire, K. Griffin, N. Boelman, J.E. Jensen, S.C. Schmiege, and L. Vierling. 2020. ABoVE: Photochemical Reflectance and Tree Growth, Brooks Range, Alaska, 2018-2019. ORNL DAAC, Oak Ridge, Tennessee, USA. https://doi.org/10.3334/ORNLDAAC/1781