Image Media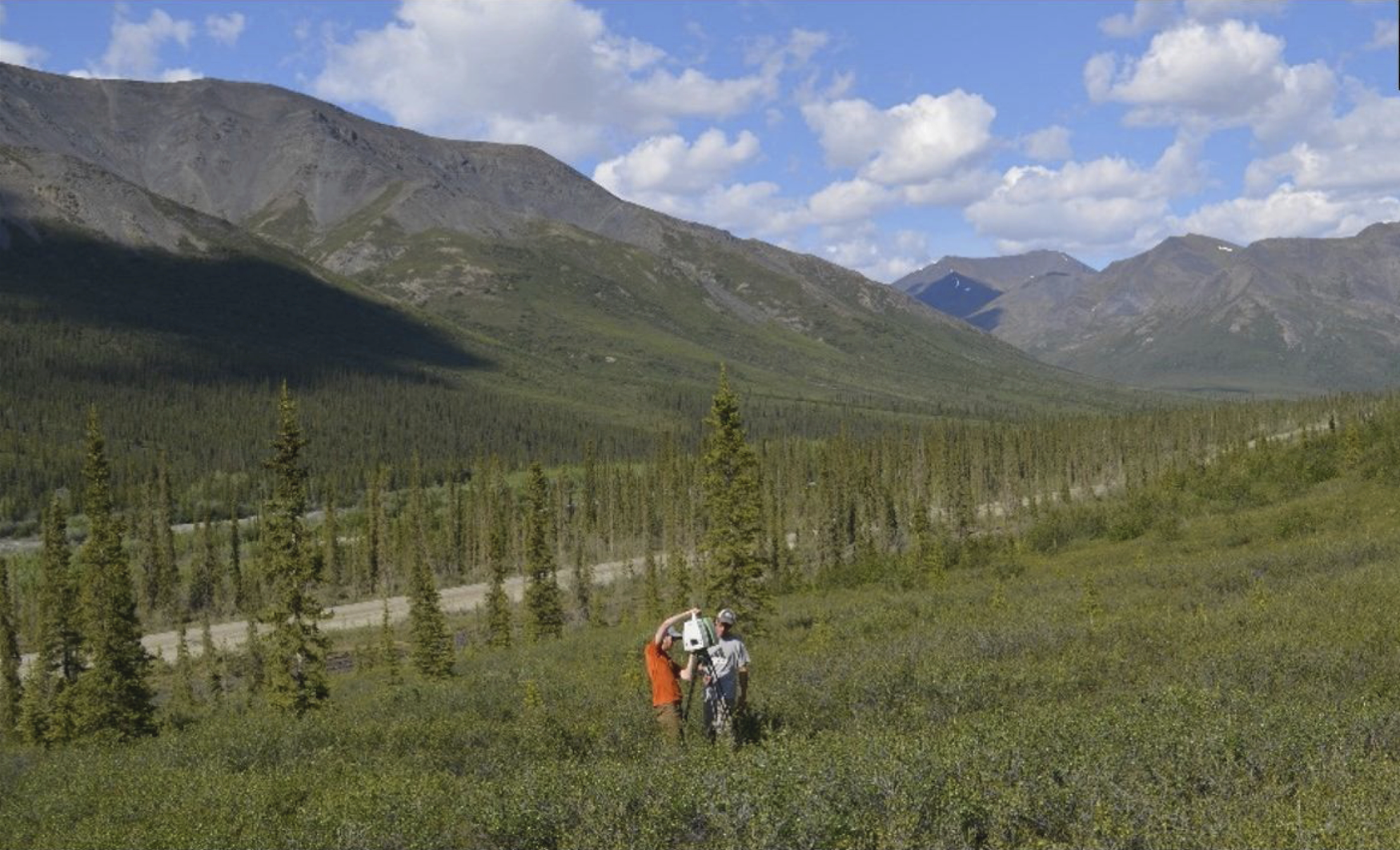 ABoVE: Terrestrial Lidar Scanning Forest-Tundra Ecotone, Brooks Range, Alaska, 2016
This dataset from the Arctic-Boreal Vulnerability Experiment (ABoVE) provides terrestrial lidar scanning (TLS) point cloud data collected at 10 research plots along the forest-tundra ecotone (FTE) in the Brooks Range of Alaska. This study location is on the southern side of the Brooks Range, 100 miles north of the Arctic Circle. Data were collected in mid-June 2016. Multiple scan positions with a Leica ScanStation C10 green wavelength laser instrument provided data for each plot. Processed data has a point spacing resolution that is <1 cm. TLS enables resolution of 3-dimensional landscape features that can be used to derive ecologically important metrics of canopy structure and surface topography at high spatial resolution. In addition, the high resolution 3-D characterization of canopy structure and topography at the structurally complex forest-tundra ecotone complements and validates airborne lidar measurements.
ABoVE is a NASA Terrestrial Ecology Program field campaign being conducted in Alaska and western Canada, for 8 to 10 years, starting in 2015. Research for ABoVE links field-based, process-level studies with geospatial data products derived from airborne and satellite sensors, providing a foundation for improving the analysis, and modeling capabilities needed to understand and predict ecosystem responses to, and societal implications of, climate change in the Arctic and Boreal regions.
Additional data from the ABoVE program and other relevant links can be found on the ORNL DAAC's ABoVE Project Page.
Data Citation: Maguire, A.J., J. Eitel, L. Vierling, N. Boelman, K. Griffin, J.S. Jennewein, and J.E. Jensen. 2020. ABoVE: Terrestrial Lidar Scanning Forest-Tundra Ecotone, Brooks Range, Alaska, 2016. ORNL DAAC, Oak Ridge, Tennessee, USA. https://doi.org/10.3334/ORNLDAAC/1782