Image Media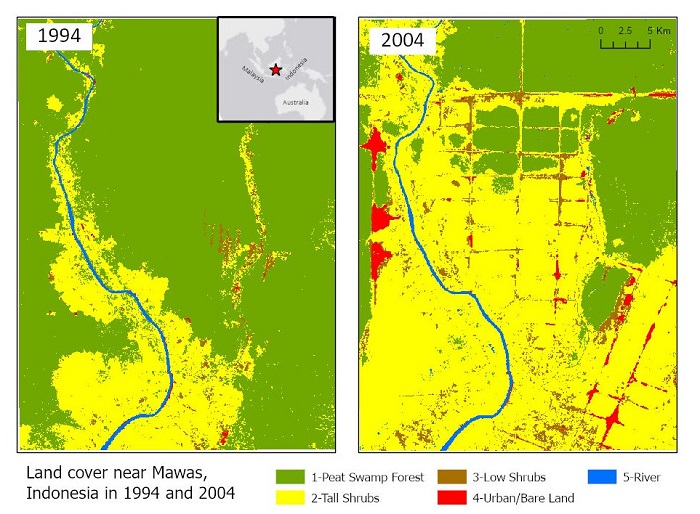 The ORNL DAAC recently released the following new Carbon Monitoring System (CMS) dataset by Vetrita, Y. et al. (2021):
Land Use and Cover Maps from Landsat, Mawas, Central Kalimantan, Indonesia, 1994-2019
This dataset contains annual, five-year-interval, land use/cover (LUC) maps at 30 m spatial resolution across Mawas, Central Kalimantan, Indonesia covering the time period 1994-2019. A high-quality/low-cloud coverage image from Landsat 5 or Landsat 8 over each 5-year period was selected or composited for the January-August timeframe. Investigators used their knowledge to manually identify training polygons in these images for five LUC classes: peat swamp forest, tall shrubs/ secondary forest, low shrubs/ferns/grass, urban/bare land/open flooded areas, and river. LUC classes were predicted across the Mawas study area using the Classification and Regression Trees (CART) method from extracted pixel values of Landsat Tier 1 surface reflectance products and selected indices for each LUC. An additional file for 2015 was created for accuracy assessment . These data can be used to evaluate the relationship between fire occurrence and land cover type in the study site. 
The NASA CMS program is designed to make significant contributions in characterizing, quantifying, understanding, and predicting the evolution of global carbon sources and sinks through improved monitoring of carbon stocks and fluxes. The System uses NASA satellite observations and modeling/analysis capabilities to establish the accuracy, quantitative uncertainties, and utility of products for supporting national and international policy, regulatory, and management activities. CMS data products are designed to inform near-term policy development and planning.
Additional data from CMS and other relevant links can be found on the ORNL DAAC's CMS Project Page.

Citation: Vetrita, Y., and M.A. Cochrane. 2021. Land Use and Cover Maps from Landsat, Mawas, Central Kalimantan, Indonesia, 1994-2019. ORNL DAAC, Oak Ridge, Tennessee, USA. https://doi.org/10.3334/ORNLDAAC/1838